1. Introduction

In October of 2006, ATI announced the newest addition to the X1000 series, the Radeon X1650XT (RV560). The X1650XT comes in two versions, XT and Crossfire, and features 256MB of GDDR3 memory. The core is clocked at 575MHz and the memory at 700MHz. The card is comparable to Nvidia's 7600GT series, in terms of single and dual card setups (SLI vs Crossfire).

- Radeon® X1650 Graphics Technology - Features
The Radeon X1650 XT delivers superior mainstream performance with industry-leading image quality and best-in-class HD video. With ATI's new, easy to use "plug-and-play" CrossFire™ configuration and unmatched image quality features, the X1650 XT delivers better gaming and home theater viewing experiences than the majority of today's best consumer electronic brands.
Superior mainstream performance with industry-leading image quality
No compromise performance with simultaneous high dynamic range lighting with full screen anti-aliasing.
New Plug-and-Play CrossFire™
Use the new plug and play CrossFire configuration to easily upgrade from mainstream to extreme performance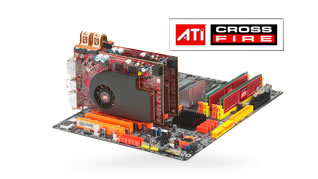 Best-in-class HD video performance
Enjoy industry leading high-definition video performance with ATI's Avivo™ technology

Over One billion More Colors
View digital photos, video and 3D images with 1 billion more colors in all of your graphics applications than you would with competing graphics boards.
Prepare for a Window's Vista™ Premium experience
Prepare your PC with a graphics card that exceeds Microsoft's stated GPU requirements for a premium Windows Vista experience.