15. Overclocking
No matter your graphics card, there comes a time in your computer's life when it can no longer cope with the latest technology the ever so popular games use. This is one of the main reasons for overclocking your graphics card. Gamers are always looking forward for a little extra boost in terms of framerate. Even though most of the times the boost is far from noticeable, overclocking remains the last resort when you can't afford to buy a brand new VGA card.
Increasing the memory clock too much,
produces the so-called "artifacts".
The stock clock speeds for the ASUS EAX1300PRO were 600MHz for the core and 400MHz for the memory.
Firing up ATITool, we loaded the card's default speeds and started tweaking them.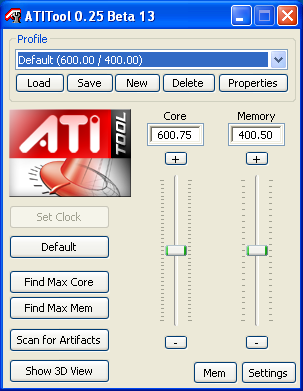 After a bit of tweaking and messing around with the core and memory clocks, we settled at a core speed of 660 and memory up to 450. Not much of an OC, but unfortunately the card could not give better results.
Let's see what difference that new settings can offer.
As we see above, due to the fact that the core and memory clocks could not be tweaked quite as high as we wanted, we have a small difference between the stock and OC version of the card. Overclocking is not necessary and wouldn't give significantly better results in any case.