ASUS Announces Strix Raid DLX, Strix Raid Pro, and Strix Soar 7.1 Gaming Sound Cards
ASUS today announced Strix Raid DLX, Strix Raid Pro, and Strix Soar, gaming sound cards that deliver high-definition 192kHz/24-bit audio, 7.1-channel surround-sound, and Perfect Voice noise-cancellation technology. Strix Raid DLX features an ESS SABRE9016 digital-to-analog converter (DAC) to deliver clear sound with a 124dB signal-to-noise ratio (SNR). Designed for enthusiast gamers, Strix Raid Pro and Strix Soar come with the ESS SABRE9006A DAC with a 116dB signal-to-noise ratio (SNR).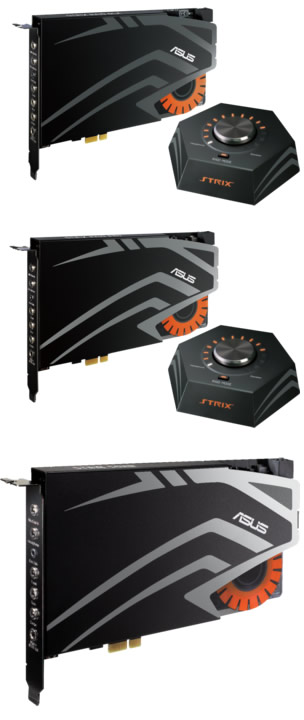 Strix Raid DLX, Strix Raid Pro, and Strix Soar each have a built-in 600-ohm headphone amplifier to drive a wide range of headphones.
Strix Raid Mode lets gamers with Strix Raid DLX and Strix Raid Pro sound cards save their audio adjustments into custom presets that they can instantly turn on or off with the dedicated Raid button on the included soundcard audio control box. The audio control box also has a control knob that lets users adjust the volume and the Raid Mode intensity level, while also doubling as an output-selector button to switch between headphones and speakers.
Strix Raid DLX, Strix Raid Pro, and Strix Soar sound cards come with Sonic Studio, the next-generation sound utility from ASUS that provides gamers control over their sound card?s audio features. It features an interface that groups audio-adjustment functions together. Unlike typical audio utilities with multi-screen interfaces , Sonic Studio has an all-in-one view that puts all the necessary controls on a single screen to make adjustments easy.
The Sonic Studio interface groups key audio controls together based on function. The Audio Enhancement group features tools for fine-grained audio control, including an equalizer for adjusting the gain of specific frequencies, Bass Boost for deeper, more pronounced bass, Voice Clarity for making speech stand out more prominently in games and movies, and Compressor to adjust audio dynamic range.
The Tuning group lets headphone listeners enable virtual surround-sound and configure the spaciousness of the effect using virtual adjustments of speaker placement and reverb.
Finally, the Mic tuning group contains microphone configuration tools and features the Perfect Voice control. Designed for multiplayer gaming, Perfect Voice reduces background noise - such as keyboard and mouse clicks as well as people talking nearby - in speech signals.
Sonic Studio also includes controls for Sonic Radar Pro, a feature that maps in-game sounds - such as footsteps and gunshots - and displays them on an on-screen overlay, so gamers can pinpoint their enemies for a competitive advantage in first-person shooters.
SPECIFICATIONS

Strix Raid DLX

Audio Performance

Output signal-to-noise ratio

Line out: 124dB

Headphone: 124dB

Line in: 117dB

Output total harmonic distortion + noise

Line out: 0.0009% (-107dB)

Headphone: 0.0009% (-107dB)

Frequency response

<10Hz to 48kHz

Output full-scale voltage

2Vrms (5.65Vp-p)

Components

 

Audio processor

C-Media USB 2.0 high-definition sound processor (Max. 384KHz/24-bit) CM6632AX

D-A converter  

ESS SABRE9016 Premier 8-channel audio DAC

A-D converter

Cirrus Logic CS5381*1 (114dB DNR, Max. 192KHz/24-bit)

Headphone amplifier

TI LME49600

Sample Rate and Resolution

 

Analog playback

44.1K/48K/88.2/96/176.4/192KHz @ 16/24-bit for all channels

Analog recording

44.1K/48K/88.2/96/176.4/192KHz @ 16/24-bit for all channels

S/PDIF digital output

44.1K/48K/96/192KHz @ 16/24-bit

ASIO 2.0 driver support

44.1K/48K/96/192KHz @ 16/24-bit

Connectivity

Output

4 x analog out 3.5mm jack (front/side/rear/center)

1 x headphone out 3.5mm jack

1 x box link

1 x S/PDIF coaxial out (combo with side out)

 

 

Strix Raid Pro/Strix Soar

Audio Performance

Output signal-to-noise ratio

Line out: 116dB

Headphone: 110dB

Line in: 110dB

Output total harmonic distortion + noise

Line out: 0.001% (-100dB)

Headphone: 0.003% (-90dB)

Frequency response

<10Hz to 48kHz

Output full-scale voltage

2Vrms (5.65Vp-p)

Sample rate and resolution

44.1K/48K/88.2/96/176.4/192KHz@16/24bit

Components

 

Audio processor

C-Media USB 2.0 high-definition sound processor (max. 384KHz/24-bit) CM6632AX

D-A converter

ESS SABRE9006A Premier 8-channel audio DAC

A-D converter

Cirrus Logic CS5361*1 (114dB DNR, max. 192KHz/24-bit)

Headphone amplifier

TI TPA6120

Sample Rate and Resolution

Analog Playback

44.1K/48K/88.2/96/176.4/192KHz @ 16/24-bit for all channels

Analog Recording

44.1K/48K/88.2/96/176.4/192KHz @ 16/24-bit for all channels

S/PDIF digital output

44.1K/48K/96/192KHz @ 16/24-bit

ASIO 2.0 driver support

44.1K/48K/96/192KHz @ 16/24-bit

Connectivity

 

Output

4 x analog out 3.5mm jack (front/side/rear/center)

1 x headphone out 3.5mm jack

1 x box link

1 x S/PDIF coaxial out (combo with Side out)

Input

1 x analog in 3.5mm jack (mic/line-in)