AMD Unveils Architectural Roadmaps for Computing and Graphics
During AMD's Financial Analyst Day, CEO and President Dr. Lisa Su, CTO Mark Papermaster and other executives talked about the company's stategy in graphics, high performance computing and solutions.
AMD CEO Lisa Su took to the stage provided some updates to the company's plans for the next three to five years. Su said that the company has improved its client market share by eight percentage points overall, an accomplishment that spans eight straight quarters of growth. Su also touted the company's progress in the enterprise market by doubling the number of available server platforms, with more than a 140 scheduled for this year. Su also reminded us that the company has won two exascale supercomputer wins with Frontier and El Capitan.
Su said that AMD has shipped more than 260 million "Zen" x86 cores in its AMD Ryzen and AMD EPYC processors.
AMD shared a new roadmap for CPUs and GPUs. The company will release Zen 4 processors based on the 5nm process in-market by the end of 2022. Meanwhile, Zen 3 on 7nm is on track for late 2020.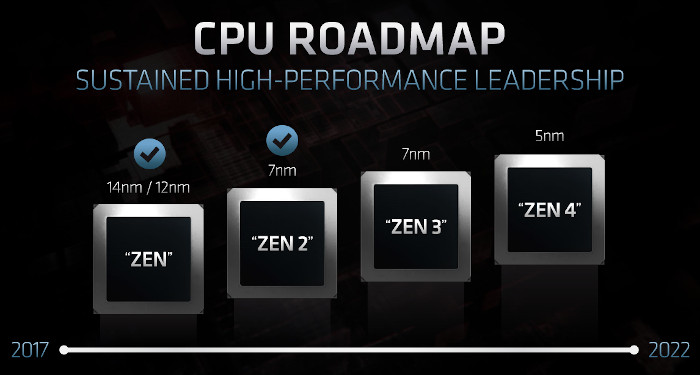 On the graphics side, AMD will launch 7nm RDNA 2 architecture (a technology behind Big Navi) in late 2020. AMD will also launch RDNA 3 architecture by the end of 2022 on a new node, but the fabrication process has not yet been confirmed.
The RDNA will be utilized by Radeon RX, Radeon Instinct and by future consoles. AMD said that the gaming architecture RDNA 2 will provide a 50% power efficiency improvement and will leverage hardware-accelerated ray tracing.
Su unveiled plans to expand its chiplet and die stacking leadership, including new "X3D" packaging that combines chiplets and hybrid 2.5D and 3D die stacking to deliver more than a 10x increase in bandwidth density. The X3D die stacking appears to be an answer to Intel's Foveros 3D stacking.
AMD's diagrams showed four main compute chiplets, arranged in a 2x2 pattern, and then 4-high stacked die with one per chiplet. All of these chips are then on a large interposer underneath.
In this case, it seems that the 'die stacking' element points to HBM or some form of memory, while the compute chiplets in the middle are only one high, but all connected through the interposer. AMD is claiming that this level of integration offers a 10x increase in bandwidth density, allowing more data to be shuttled from the memory stacks into the cores.
Su also mentioned a new Infinity Architecture, which is a system-level approach to tying together AMD's CPUs and GPUs. The upcoming 3rd Generation AMD Infinity Architecture with optimized CPU and GPU memory coherency can enable significant performance improvements and simplify the software programming required for accelerated computing solutions by allowing the CPU and GPU to coherently share the same memory: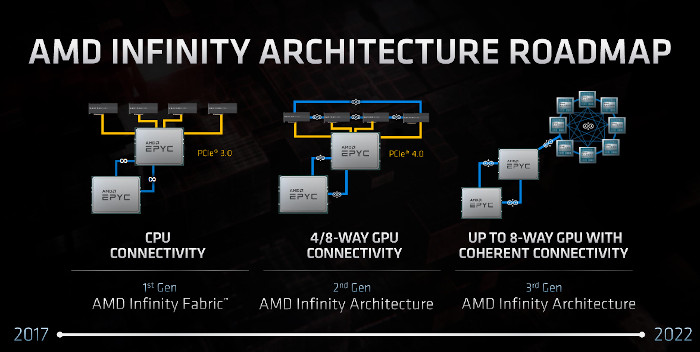 With the Infinity Architecture, AMD is scaling it not only to allow for an almost all-to-all connection (6 links per GPU) for up to eight GPUs, but also for CPU-to-GPU connectivity. This should allow for a magnitude of improved operation between the two, such as unified memory spaces and the benefits to come with that.
AMD also confirmed that starting from 2020 two architectures will be used for GPUs.The compute-oriented GPUs will utilize CDNA architecture, while pure gaming-oriented GPUs will feature RDNA. The company said that Milan is on-track for a 2020 launch.
The first-generation AMD CDNA architecture, planned to launch later this year, includes 2nd Generation AMD Infinity Architecture to enhance GPU to GPU connectivity and is optimized for machine learning and high-performance computing applications. The follow-up AMD CDNA 2 architecture will support 3rd Generation AMD Infinity Architecture to enable next generation exascale-class supercomputers.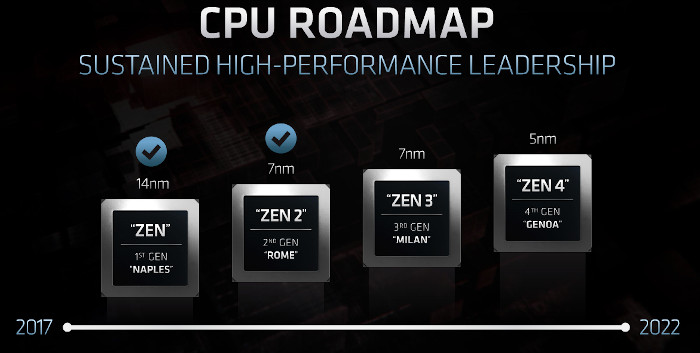 AMD CTO Mark Papermaster outlined the company's new approach to silicon design, including leapfrogging CPU and GPU design teams that allow the company to deploy new designs faster.
Papermaster said the company is working together with TSMC on 5nm for Zen 4 processors. He also said the company planned for "our competitor" (Intel) to continue to retain the lead in process tech, but the company unexpectedly took the lead over Intel. However, the company still plans to fight off Intel as if it were to reemerge with a process node advantage.
AMD's David Wang announced that the company will split its GPUs up into RDNA cards for consumers/gaming, and CDNA ("Compute") for enterprise use-cases. RDNA 2 cards support variable rate shading and ray tracing. AMD also shared a chart that shows big performance-per-Watt gains for RDNA 2. He also showed a chart that details a 50% increase in performance per watt for each generation.
Expanding on previous generations of the ROCm open source software platform for the data center, AMD plans to introduce ROCm 4.0 later this year as a complete software solution for high-performance computing exascale systems and machine learning workloads.
Forrest Norrod took the stage to cover the data center side of AMD's business. EPYC Milan, with Zen 3, is on track for release this year. AMD is moving quickly. AMD's EPYC Rome has taken 140 world records for performance thus far.
Norrod revealed some new charts with EPYC Rome against Intel's new revised Cascade Lake Refresh lineup. Norrod says that AMD still offers a 3.5X performance-per-dollar advantage over Intel's new chips, and shared a comparison of EPYC Rome against Intel's dual- and single-socket server platforms.
AMD shared some of its advantages over competing Intel solutions, and also announced that it will push into the telco and infrastructure market, which includes the important 5G segment.
Milan will ship this year, with Genoa on 5nm coming by the end of 2022. AMD also said that its optimizations will allow Milan will address the entire data center market.
Lisa Su delivered her closing remarks before the question and answer session. Su started the session by covering the impact of the coronavirus on AMD's operations, with a focus on employee safety. Su said the situation is dynamic and AMD's supply chain is primarily in China, Malaysia, and Taiwan. The company has taken actions to ensure continuity and the company is back to near-normal in the supply chain. The company is also monitoring its customers' supply chains.
AMD reiterated its first quarter 2020 financial guidance. The company expects the impact from COVID-19 in the first quarter to be modest, potentially resulting in revenue coming in at the lower end of the guidance of approximately $1.8 billion, plus or minus $50 million. Full year 2020 financial guidance remains unchanged.
Su expects the situation to remain fluid, and it will have some impact on demand. The Chinese market has experienced reduced demand, but in some cases demand has increased. AMD did not alter the financial projections from its recent earnings call.
She predicted the company will achieve revenue growth of 20% over the next four years and become more profitable as it reaches that goal.
Gross margin, or the percentage of sales remaining after deducting the cost of production, will rise to more than 50%, she said.
Su said the computer industry's supply chain is rapidly recovering to typical levels of activity. AMD's suppliers in China, Taiwan and Malaysia are almost back to full output, the CEO added. Other technology companies have scrapped guidance or lowered forecasts for the current period.
AMD has targeted double-digit market share in servers by the middle of this year, trying to reclaim a meaningful position in that lucrative market after dropping to less than 1%. Server computers are the backbone of corporate networks and the giant data centers that run the internet. Chips that power them can cost more than $10,000 each.
Intel's server chip unit grew 19% in the fourth quarter and revenue from cloud-service providers, which offer computing power and storage via the web, surged 48%. Intel's data center business gets more revenue in a quarter than AMD generates in year.