AMD Releases 'Gold Edition' AMD Ryzen Processor, AMD Radeon VII Graphics Card, AMD50 Game Bundle and More
Kicking off its 50th anniversary celebration, AMD today unveiled 'Gold Edition' versions of AMD Ryzen 7 2700X processors and AMD Radeon VII graphics cards.
"For a half century, AMD pushed the boundaries of what's possible in high-performance computing to create new experiences and possibilities for hundreds of millions of people," said John Taylor, chief marketing officer at AMD. "We celebrate this moment with our fans around the world who inspire us to push forward in that spirit for another fifty years to 2069 and beyond."
Optimized for gamers, creators, and hardware enthusiasts, the AMD Ryzen 7 2700X processor is a top-seller at etailers thanks to enthusiasts worldwide. In addition, the AMD Ryzen 7 2700X Gold Edition processor features Dr. Su's signature imprinted on the processor cover and gold AMD50 packaging to commemorate the company's anniversary.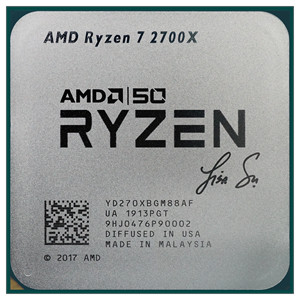 The AMD Radeon VII Gold Edition graphics card features a vibrant red shroud and gold AMD50 packaging. The first 7nm gaming graphics card, Radeon VII delivers performance with the latest AAA, eSports and Virtual Reality (VR) titles, 3D rendering and video editing applications, and next-generation compute workloads.
Anyone who purchases Gold Edition AMD Ryzen processors and AMD Radeon graphics cards from April 29 to June 8, 2019 will also receive:
AMD50 Game Bundle: Gamers who purchase Gold Edition products -- as well as other eligible AMD Ryzen processors, Radeon graphics cards, or Ryzen and Radeon-powered PCs -- will receive a coupon code for a free PC version of World War Z. They will also receive a coupon code for a free PC version of Tom Clancy's The Division 2 Gold Edition which includes a Year 1 Season Pass providing one-week early access to all Year 1 Episodes; eight classified assignments and assignment rewards (backpack trophies); instant unlock of three new specializations as they release; an agent ward outfit, scout emote, and additional bounties and projects; as well as an exclusive AMD50 in-game armband.
AMD50 Tribute T-Shirt and CEO Dr. Lisa Su-Autographed Sticker: Gold Edition AMD Ryzen and Radeon products will include an AMD50 sticker signed by the AMD CEO and a coupon to redeem for a free AMD 50th anniversary t-shirt.
Select retailers and etailers worldwide plan to offer special deals on select AMD products during the AMD50 promotional period beginning April 29 through June 8, 2019. For example, Best Buy is launching a one-day AMD 50th Anniversary sale on May 1, 2019, offering up to $150 USD off select AMD products, including AMD-powered PCs and notebooks, Ryzen processors, and Radeon graphics. The promotion is available exclusively to Best Buy customers in the U.S.
The AMD Ryzen 7 2700X Gold Edition processor is available now for a limited time for $329 USD MSRP from select retailers/etailers in select countries in North America, Latin America, Europe, Greater China and the Asia Pacific region. The AMD Radeon VII Gold Edition graphics card is available now for a limited time for $699 USD MSRP from AMD.com and JD.com.