AMD Radeon RX 480 8GB review
1. Polaris Is here - meet the AMD Radeon RX 480
AMD's first graphics card based on the new Polaris GPU architecture is the Radeon GTX 480.
Aimed for the mainstream, the new card offers radically improved power efficiency and performance. AMD has already teased us with information about the new card back at Computex 2016,, but now it's time to take a look at the final, retail hardware.
The RX 480 is based in AMD's Polaris 10 GPU - the larger of the two GPUs already announced by AMD. The total transistor count is 5.7 billion, which takes up 232mm2 on GlobalFoundries' 14nm FinFET process.
The RX 480 ships with all 36 CUs (2304 SPs) enabled. Each CU has 64 stream processors and 4 texture units. The card is also equipped with 32 ROPs, paired with 2MB of L2 cache.
AMD has stuck with a 256-bit GDDR5 memory bus and offers either 4GB or 8GB of VRAM. The reference 4GB RX 480 meets the RX 480 minimum specifications, whereas the reference 8GB card is de facto overclocked relative to those same specifications.
In terms of memory speeds, 7Gbps GDDR5 is the minimum speed for both RX 480 capacities.
AMD Radeon RX 480 (8GB)
AMD Radeon RX 480 (4GB)
Stream Processors
2304
(36 CUs)
2304
(36 CUs)
Texture Units
144
144
ROPs
32
32
Base Clock
1120MHz
1120MHz
Boost Clock
1266MHz
1266MHz
Memory Clock
7-8 Gbps GDDR5
7Gbps GDDR5
Memory Bus Width
256-bit
256-bit
VRAM
8GB
4GB
Transistor Count
5.7B
5.7B
Typical Board Power
150W
150W
Manufacturing Process
GloFo 14nm FinFET
GloFo 14nm FinFET
Architecture
GCN 4
GCN 4
GPU
Polaris 10
Polaris 10
Launch Price
$239
$199
One of the major goals of Polaris was power efficiency. RX 480's official Typical Board Power (TBP) is 150W, over 20% lower than the last-generation R9 380, and 45% lower than the otherwise performance-comparable R9 390. Consequently the card only requires a single 6-pin PCIe power connector for external power.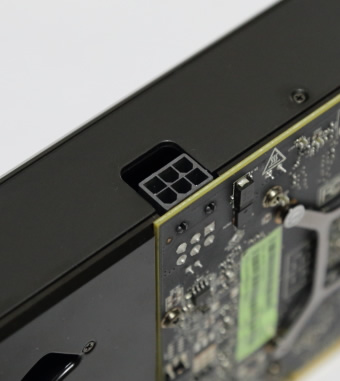 The reference RX 480 is a double-wide, blower-style card measuring 9.5-inches long.
Connectivity options include 3 DisplayPorts and an HDMI port; AMD has done away with the DVI port for their reference design. Both port types support their latest respective standards. For DisplayPort this means support for the 1.3 and 1.4 standards, adding the newest, fastest HBR3 signaling mode, along with full HDR support. Meanwhile for the HDMI support, HDMI 2.0b is supported, offering 4Kp60 support with HDR.
AMD's partners have started shipping AMD's reference design in 4GB and 8GB capacities.
With two different capacities there are two different prices for the RX 480. The entry level 4GB card will be launching at the previously unveiled price of $199. Meanwhile the 8GB card will launch at $239, a $40 price premium for the extra 4GB of memory and the higher memory frequency.
The Radeon RX 480 series is launching into the mainstream market and at least for now, it has no competition. Nvidia's GTX 1070 is starting at $399 , so any competition there is for AMD is composed of last-generation 28nm cards, particularly the GTX 970 and GTX 960. But Nvidia is expected to soon release the GTX 1060 GPU in order to compete with the new Radeon RX 480.
We tested the AMD Radeon RX 480 (8GB) 1080 using the following PC setup:
CPU
Core i7-6700K
Motherboard
ASUS Z170-A
Memory
DDR4-2133 8GB × 2 (15-15-15-35,1.20V)
Storage
256GB SSD
Graphics driver

Radeon Software Crimson Edition 16.6.2

/

GeForce 368.39

OS
Windows 10 Pro 64bit