AMD Radeon RX 480 8GB review
5. Dark Souls III, Assassin's Creed Syndicate, Power consumption
The Dark Souls III game's maximum frame rate is fixed to 60 fps. For this reason, all the cards on the chart below come side-by-side in the 1080p resolution. But it was interesting to see than the Radeon RX 480 had the same performance with the GTX 970 in all the resolutions: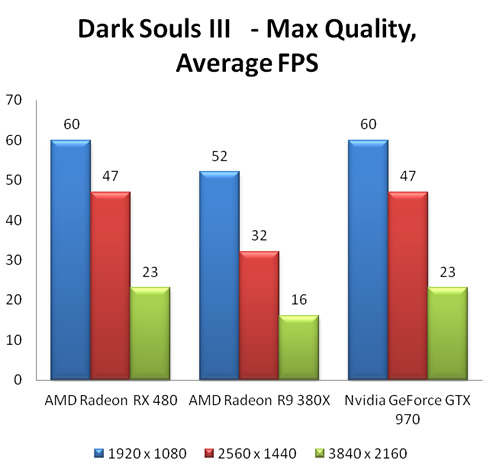 The very demanding Assassin's Creed syndicate title always requires high GPU resources in order to be playable.The> Radeon RX 480 recorded the highest FPS in all settings and the 4K resolution. However, in the resolutions of 2,560 x 1,440 and 1920 x1080, the RX 480 and the GTX 970 delivered the same FPS.
Power consumption
We measured the power consumption of the system during the benchmarks with each GPU. Both idle and maximum power figures we recorded.
Idle power consumption of the radeon RX 480 at 41W, this number has the highest numerical value among the three products were compared.
During almost all the benchmarks, the maximum power consumption of the RX 480 was 190W~210W - fairly close to the consumption of the the GeForce GTX 970.Despite being rated as a 150 watt card, AMD's graphics card much more power under load. AMD says a software-based fix is incoming:
"As you know, we continuously tune our GPUs in order to maximize their performance within their given power envelopes and the speed of the memory interface, which in this case is an unprecedented 8Gbps for GDDR5. Recently, we identified select scenarios where the tuning of some RX 480 boards was not optimal. Fortunately, we can adjust the GPU's tuning via software in order to resolve this issue. We are already testing a driver that implements a fix, and we will provide an update to the community on our progress on Tuesday (July 5, 2016)."
However, if the software fix involves reducing the power draw for the RX 480, that'll most likely lower performance in the reference editions of the card as well, especially since Polaris' performance is closely tied to the card's power limit.
In any case, compared to the Radeon R9 380X, which consumed approximately 200 ~ 230W during the various benchmarks, the RX 480 offers greater power to performance ratio, provided that it offers an overall 30% higher score/performance.