2. A closer look
The Akasa Freedom 750W retails for ~€160Euro (including VAT), which is among the highest prices for the category.
The package is relatively big as it includes many goodies together with the main PSU. The various certifications on the front as well as other stickers and logos are there to tease the demanding user:
Despite the high cost of the device, it seems that it is not officially certified for CrossFire or Nvidia SLI, since we could not find the corresponding logos on the box. Akasa claims that the PSU is capable of supporting systems with triple top-end VGA cards, which means that even the official certifications are missing, the PSU should be able to offer sufficient power for these configurations.
In the box everything is well packaged and securely placed into a transparent plastic case: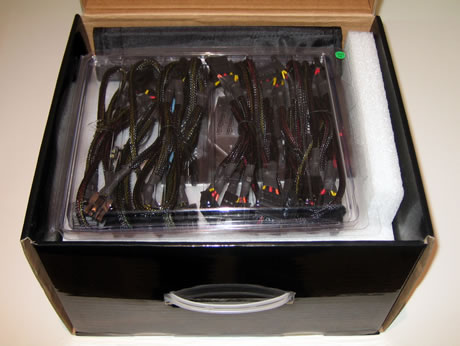 The contents are the following:
Akasa Freedom 750W PSU
Main power cable
Cable tidy kit
Multi language manual
Storage pouch for the unused cables
PSU mounting screws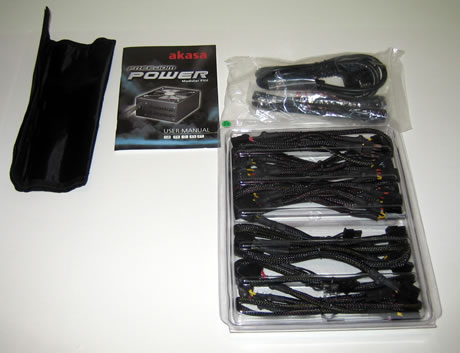 The device is not bigger than any typical PSU, meaning that it could fit in any PC case: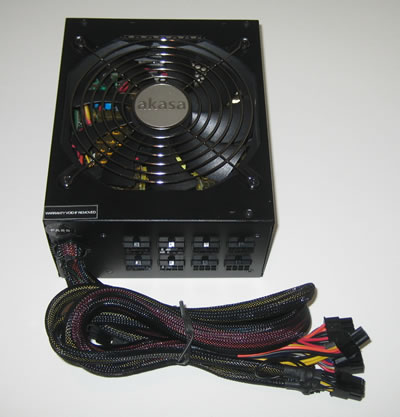 The product is Intel ATX v2.3 compliant, meaning it is designed to meet the safety and reliability requirements of modern systems.
The top side of the PSU is covered by a 140mm fan rated at 700-1600 RPM - a fairly silent combination.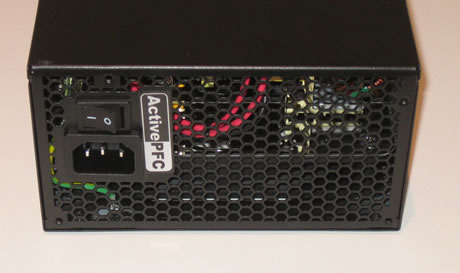 .
The device has a matte black finish and it is what Akasa calls "Satin Black". The rounded edges make handling easier and the honeycomb design of the rear side offers better cooling.
The PSU' specifications and ratings are also available on the side of the device: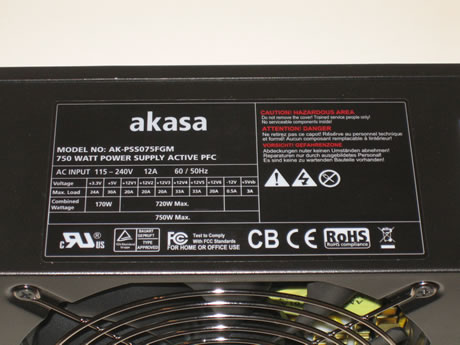 The power supply has six +12V rails which offer 0-20A and 0-33A of output. All six rails are powered by a single source inside the PSU, which is a typical configuration for the majority of PSUs available today. However, an independent source design is theoretically better since each rail could have a more stable performance no matter if the PSU is fully loaded or not. Of course, such designs are more expensive. Akasa claims that the available power is efficiently balanced over six 12V rails (720W).
The +3.3V and +5.5V outputs are also contributing a combined wattage of 170W.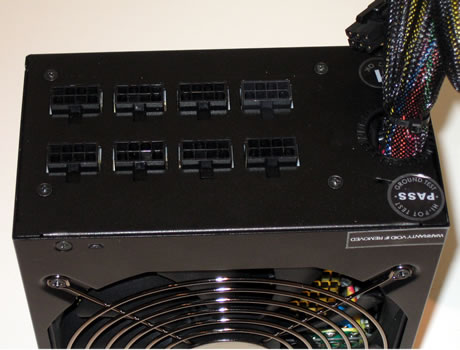 The eight connectors are equally sized. Akasa recommends the following placements for each cable: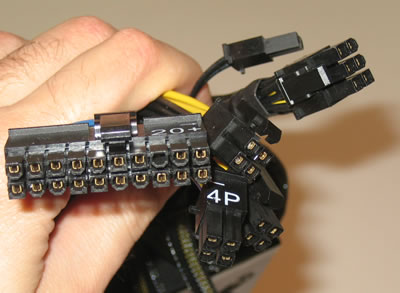 | Connectors Included | # | Overall Length |
| --- | --- | --- |
| ATX 24 pin & 20 pin compatible | x1 | 570mm |
| EPS/ATX12V 4+4 pin | x1 | 703mm |
| PCI-E 6+2 pin | x6 | 600mm |
| SATA | x12 | 720mm |
| 4 pin Peripheral | x8 | 1000mm |
| Floppy | x1 | 1000mm |
Many of the available cables are lengthy enough for easy installations even in high PC towers. In addition, the 8 molex type and 12 SATA power connectors will allow you to power all the devices in your loaded PC case while the six PCI-e 6+2 connectors are enough to power triple-graphics cards setups.