8. Benchmarks - - Assassins Creed (DirectX 10), Half Life 2 Episode 2 (DirectX 9)
- Assassins Creed (DirectX 10)
Assassins Creed is a new game from Ubisoft that supports the DirectX 10.1 extensions. Its graphics are highly demanding, especially when all details are maxed out. We tested the graphics cards only at the resolution of 1920x1200, since lower resolutions for the specific game are not very demanding. Using FRAPS we recorded the same fight scene and the game results presented below.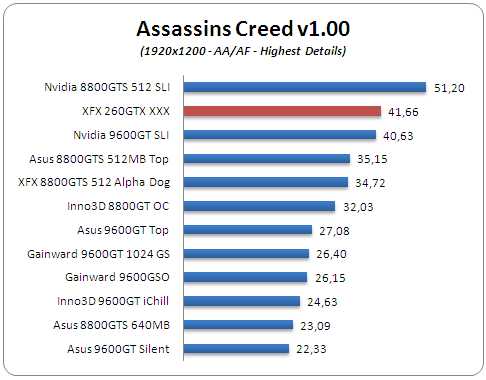 The XFX 260GTX performed better than any other card, SLI excluded. However, we expected a little bit better performance here.
- Half Life 2 Episode 2 (DirectX 9)
Half Life 2 is a first person shooter game that everybody has played and loved. The game at Episode 2 has several image quality improvements, especially with 4xAA and 16AF enabled.
Compared to the Asus 8800GTS Top, the XFX 260GTX gave 9, 18 and 28 additional FPS at the 1280x1024, 1650x1050 and 1920x1200 resolutions respectively.