WD My Passport 4TB PS4 HDD
1. Features, specs
We have the chance to spend some time with WD's My Passport portable game drive, an external hard disk designed to easily expand the capacity on your PS4 console by up to 4TB - enough room for as many as 100 PS4 HD games or 40 PS4 Pro 4K games.
The drive can be used to load games and play with friends on other PlayStation 4 consoles without having to reinstall. All you need to do is
to connect the drive to a PS4 console with a USB 3.0 cable, quickly format the new storage, and you're ready for game time.
With games loaded on the My Passport portable drive, there's no need to re-download or reinstall. Be sure you have an internet connection (it's required) and are logged into yourPSN account.
Note that if game was purchased and loaded from disc, original discs may be required to verify ownership.
Backed by a 3-year limited warranty, is compatible with Sony PlayStation 4 and PlayStation 4 Pro consoles with firmware 4.50 or later. The drive can be also used with other devices such as your laptop or your PC, and will most probably not require reformatting under Windows. However, compatibility may vary depending on your hardware configuration and operating system.
Specifications
Capacity: 2TB, 4TB
Interface: USB 3.1 Gen 1 Type-C up to 5 Gb/s, USB 3.0 Type-A up to 5 Gb/s
Power Supply (DC in)
Dimensions

4TB: Length: 110mm (4.33 in) Width: 81.5mm (3.21 in) Height: 21.5mm (0.85 in) Weight: 250g (0.54lb)
2TB: Length: 110mm (4.33 in) Width: 81.5mm (3.21 in) Height: 13.8mm (0.54 in) Weight: 170g (0.37 lb)

Operating Temperature: 5° C to 35° C ( 41° F to 95° F)
Non-op Temperature:-20° C to 65° C (-4° F to 149° F)
Operating Relative Humidity: 20%-80%
Non-op Relative Humidity: 5%-90%
Compatible with Sony PlayStation 4 and PlayStation 4 Pro with firmware 4.50 or later
Limited warranty: 3 years
Below you see the drive's package and its overall design. Besides the My Passport drive, the package includes a USB cable and a Quick install guide.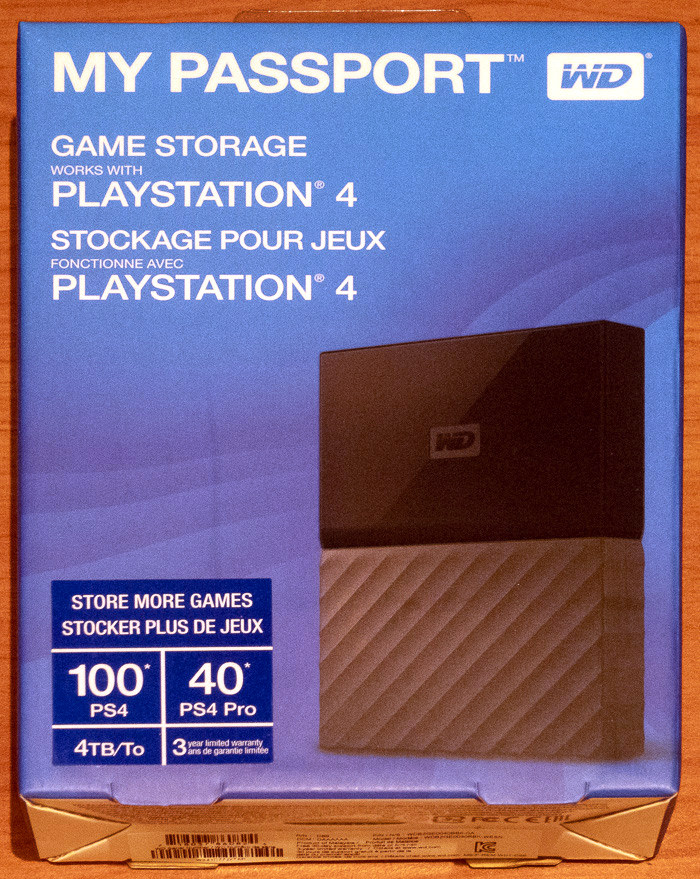 WD has added a stylish wavy texture into the half of the drive that's home to the powered USB port and power indicator. The waves also provide a better grip on the glossy plastic.
WD doesn't provide any PC partitioning utility for the drive (for those not using it with a PS4), but you can use the Windows or OS X (or Linux) system utilities for that.