Vivo APEX 2019 Concept 5G Smartphone Features a Full-Display Fingerprint Scanning Technology
Vivo announced today at a press conference in Beijing the launch of the new APEX 2019 concept smartphone, a 5G smartphone that offers a recognizable design with Curved-Surface Waterdrop Glass and no openings.
"With the goal of enhanced usability and simplicity at the core, APEX 2019 offers consumers a glimpse into the future of smartphone design and development. The Super Unibody design and Full-Display Fingerprint Scanning technology, among several other breakthrough features, make APEX 2019 a truly exceptional smartphone that demonstrates Vivo's continuous exploration and pursuit of exceptional innovation for consumers," said Spark Ni, Senior Vice President of Vivo.
APEX 2019 introduces a sleek FullView design that renders the bezel extinct. The device completely removes physical buttons, and instead it adopts the Touch Sense technology, which brings together capacitive touch and pressure-sensing. With programming logic and software, the pressure sensors can tell if a user is pressing the frame and the capacitive touch can determine its position, providing extra-sensitive accuracy.
USB ports are replaced by a MagPort, a magnetic power connector which enables both charging and data transfer.
APEX 2019 also turns its display into a speaker by using Body SoundCasting technology, transforming the entire APEX 2019 display into a speaker via the screen vibration function, avoiding the need for a speaker grill.
APEX 2019 comes equipped with Full-Display Fingerprint Scanning technology, with a sensor covering almost the entire display. This enables users to touch almost anywhere on the screen to unlock the device seamlessly, supported by Vivo's Fingerprint Light function - when the user's finger is close to the display, the pixels around the touch point will automatically light up as an additional light source to help obtain a clear fingerprint image.
A larger sensor also enables more features to bolster security for using apps. When users wake their device from an inactive screen and press on the corresponding app icon to scan their finger, they can unlock and gain direct access to the app.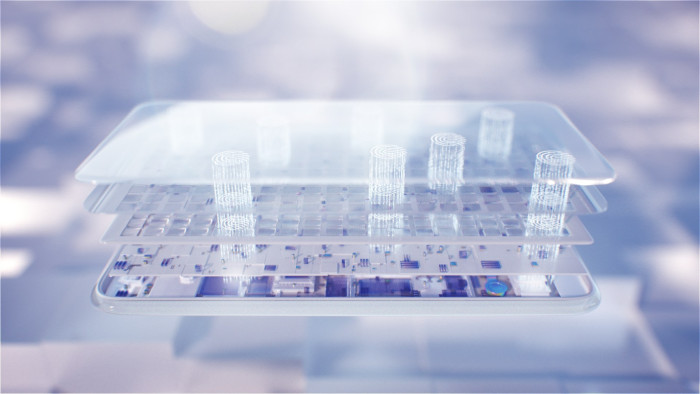 Vivo's first 5G smartphone runs on the Qualcomm Snapdragon 855 platform with a memory of 12GB + 256GB, and is equipped with Jovi AI Assistant, along with many other smart functions.
APEX 2019 has also solved the challenge of limited motherboard space by using a Duplex PCB Design which has increased the available space by 20% to minimize the overall stacking space. This is Vivo's solution to free up space for the 5G modules, making the phone a true unibody 5G phone.
APEX 2019 will be showcased at the Mobile World Congress (MWC) in Barcelona at the end of February.