Toshiba Showcases Glasses-free 3D TV, Tablet At CES 2011
Toshiba will begin selling large-screen glasses-free 3D television sets as well as an Android tablet computer wordlwide in fiscal 2011. The company plans to start marketing its Glasses-free 3D TVs wordlwide.
Toshiba targets for a one-third increase in its TV unit sales for the financial year starting in April, to 20 million.
At CES 2011, the company will be showing off prototypes of 56-inch and 65-inch glasses-free 3D TVs at CES and will probably launch two models, one over 40 inches and another over 50 inches. These models will be launched in America, Europe and China. Toshiba has not provided specific launch dates or prices for the new products.
The company will also show how it has realized glasses-free 3D now, and display the world's first commercialized LCD TVs that do away with dedicated glasses. Already available in Japan, the "Glasses-less 3D REGZA GL1" TVs are specifically designed for personal use and come in two versions, the 20-inch 20GL1 and the 12-inch 12GL1. The TVs employ an integral imaging system (a system that reproduces the design and tracks of beams of light by sampling the light emitted from the object at several angles) and perpendicular lenticular sheet (a lenticular sheet is an array of lenses that transmits images in a horizontal plane) to display natural images, while a wide viewing angle is secured by Toshiba's proprietary image processing technology that creates nine parallax images from the original content and then converts them to 3D. In order to create 3D content, the GL1 series adopts a parallax system that can display optimized high quality 3D images whatever the position and angle to the screen of the viewer. This is called "parallax image." Nine images from nine directions are called "nine parallax images."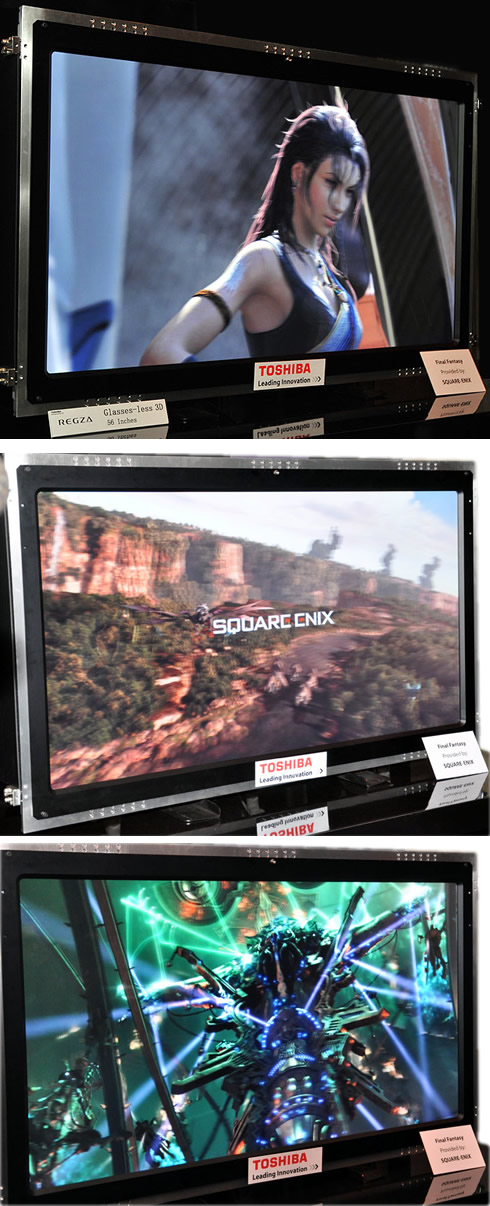 The company also sells 3D-capable televisions for use with customary glasses, along the lines of those offered by rivals such as Sony. Toshiba also plans to introduce next fiscal year TVs equipped with Google software that allows users to browse the Internet.
Toshiba is also hoping to lure consumers to its new tablet computer by including a screen that is slightly larger than the iPad and offering a version of Google's Android mobile operating software geared toward such devices.
The Toshiba Tablet will include a touch screen that measures 10.1 inches diagonally (1280x800 , 16:10 aspect ratio)- compared with 9.7 inches on Apple's iPad. Toshiba's device will also have the forthcoming version of Android, called Honeycomb.
The Toshiba Adaptive Display technology is automatically adjusting the display?s brightness and color to the lighting environment. The tablet also features a built-in motion sensor that enables full screen rotation and includes a rotation-lock switch to set the display in position when the user chooses. In addition, the tablet includes an on-screen keyboard with Haptic feedback for more accurate typing.
The stylish design features Toshiba?s EasyGrip finish and will be available in multiple colors. This slip-resistant rubberized surface is more comfortable to the touch and easy to hold.
The tablet's screen will be able to show high-definition videos in 1080p resolution and it includes an HDMI port to connect it to a high-definition television. It will also play Flash videos - something Samsung's Galaxy Tab can do as well, but the iPad cannot.
The Tablet will have an Nvidia Tegra 2 mobile processor and a 2-megapixel front-facing camera for video chatting and a 5-megapixel rear camera. 802.11n Wi-Fi connection, GPS and Bluetooth technologies, a full-size USB and a mini USB 2.0 port as well as an SD memory card will be also available.
Toshiba expects the tablet to be slightly more than half an inch thick and weigh less than 1.7 pounds. It's battery will provide seven hours of video playback. The iPad, by comparison, promises as much as 10 hours of Web surfing over Wi-Fi or video watching.
The tablet also includes Toshiba Resolution+ video enhancement technology that improves color, contrast and sharpness, giving standard definition video a more high definition look as well as Toshiba sound enhancement technology to boost the audio experience adding more robust sound capabilities to the device?s stereo speakers.
Toshiba expects to roll out the tablet by the end of June. A price has not yet been set, but the company believes it will be competitive with the iPad, which costs $499 to $829, depending on its memory capacity and wireless capabilities.