ASUS Unveils Eee Slate and Eee Pad Tablets Plus The Latest TUF Motherboards and ROG Products at CES
ASUS Chairman Jonney Shih introduced the long-anticipated Eee Pad, Eee Slate, TUF Motherboards and the latest Republic of Gamers (ROG) lineup during the annual ASUS press conference at the 2011 Consumer Electronics Show (CES).
ASUS Eee Pad and Eee Slate Tablet Devices
The newly unveiled family of ASUS tablets arrives with a splash by offering four products.
The Eee Pad MeMO has a 7.1-inch screen powered by the Qualcomm Snapdragon mobile processor and will ship with Android 3.0 (Honeycomb) featuring HD playback capabilities, mobile gaming, Web connetion and is accompanied by a stylus pen for taking handwritten notes. Small enough to slip into a jacket pocket, the Memo also comes with a Micro HDMI port in order to connect to an external display for full 1080p HD video playback.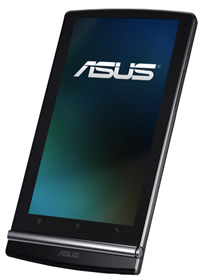 The Eee Pad Transformer and Eee Pad Slider are equipped with 10.1" IPS touchscreens, NVIDIA Tegra 2 mobile processor technology and will ship with Android 3.0.
The Transformer comes with a docking option that incorporates a QWERTY keyboard and serves as a battery extension station for up-to 16 hours of non-stop computing. With a slim lightweight design and 10.1" touch-screen, the Eee Pad Transformer is a pad computer for people who want to enjoy multimedia on the move, but still wish to have easy access to the web, email and other productivity applications. A custom user interface provides access to the many features of the Android 3.0 operating system, while the NVIDIA Tegra 2 chipset provides full support for Adobe Flash, smooth HD video conferencing and playback, a fast web experience and high mobile gaming performance.
An optional docking station turns the Transformer into a full-fledged notebook with a QWERTY keyboard for desktop use, while extending battery life up to 16 hours. Front (1.2MP) and rear (5MP) digital cameras make for easy video chat and digital photography, while a built-in mini-HDMI port makes for easy connections to external displays showing off full 1080p HD video playback.
The Slider is equipped with a sliding keyboard for those who desire higher mobility capabilities in a tablet product along with excellent battery life. This pad computer features a 10.1" IPS touch-screen for finger-friendly use, but also a slide-out QWERTY keyboard. It is powered by the NVIDIA Tegra 2 mobile processor with a dual-core CPU and NVIDIA GeForce GPU. Built-in digital cameras on the front (1.2MP) and rear (5MP) of the Slider allow for easy video chat and digital photography while the Android 3.0 operating system makes sharing photos by internet, email and social media sites a breeze. Optional onboard 3G allows for go-anywhere internet access.
For consumers who value productivity, entertainment and desktop power on-the-go, ASUS offers the Eee Slate EP121 which boasts a 12.1" LED-backlit multi-touch display with a 1280 x 800 resolution and a wide 178° viewing angle. An Intel Core i5 dual-core processor is running on Microsoft Windows 7 Home Premium operating system. The Eee Slate EP121 allows the user to run a variety of desktop applications on its 64GB SSD drive while offering various data input options ranging from a Wacom Digitizer pen to an included Bluetooth wireless keyboard for ultimate user flexibility. An on-screen keyboard is also complimented by support for an external Bluetooth keyboard for traditional desktop use.
The Eee Slate is available with 32GB or 64GB of SSD storage (expandable via SDXC), and up to 4GB of DDR3 RAM. All models have 802.11n Wi-Fi, Bluetooth 3.0, a 2-megapixel camera, plus two USB 2.0 ports that provide full support for a wide range of standard PC peripherals, along with a mini-HDMI port that is ideal for connecting to external displays.
ASUS TUF and ROG Motherboards
Shih also introduced the latest ASUS TUF series which is designed to withstand rugged environments with the ASUS proprietary Thermal Armor and Thermal Radar cooling design plus a five-year warranty.
"As you know ASUS is a veteran in producing the world?s best motherboards. We continue to strive for technological breakthroughs on our motherboards that include a new class leading Digital VRM design. The new ROG Rampage III Black Edition motherboard is a gamers' dream come true. The additional network lane port and built-in headset amplifier bring both speed and realism to games and media applications. The ROG Vulcan headset is just one example of our commitment to technological breakthroughs. The active noise cancellation technology and tuned frequency response brings the ultimate gaming experience to life," said Jonney Shih Chairman of ASUS.