5. Results
In the following charts you can see the results if the various CPU coolers. The Titan Cool-Idol has to compete with many other models from various vendors, different price range and features.
Getting the first series of tests, the Titan Cool-Idol performed adequately. We got an average of 56 degrees Celsius, and share the fourth place in the ranking, joined by many other CPU coolers: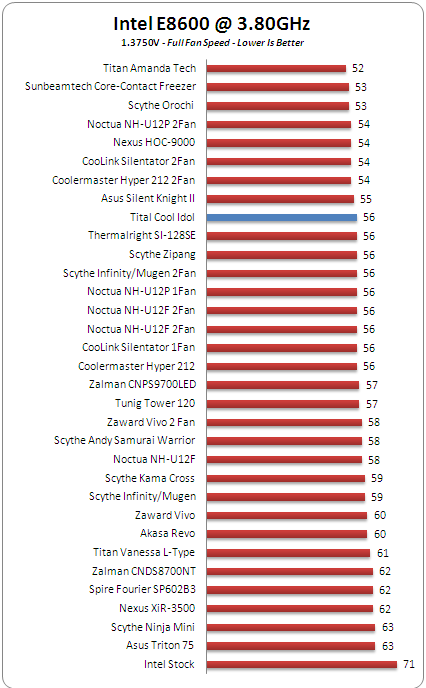 Pushing the Intel E8600 even higher (4.30GHz, 1.4875V) made things a little bit more difficult for all the CPU coolers. This time, the Titan Cool Idol had a rather poor performance and the CPU reached the 79 degrees Celsius. We expected a more efficient cooling by the Cool-Idol under overclocking.
What about the noise? Well, with the 120mm fan to rotate at 2.500rpm (full speed), the noise levels are very high. Lowering the RPM through the the included PCI slot fan controller works but the cooling performance is significantly drops.
We lowered the fan speed and obviously things were much more silent:
Last but not least, the retail price of each tested product is presented below. The Titan Cool-Idol is among the mid to average priced solutions with $59.