Thermaltake T2000 Notebook Cooler
1. Introduction

We recently reviewed Thermaltake's IXoft Pad, which is a silent, fanless cooling pad for laptops. The performance of the IXoft pad while good, may not be enough for some of the more "hot blooded" portables which can produce quite a good deal of heat. For such case, we'll be taking a look in this review, at another laptop cooling product, this time with two fans producing enough airflow for better cooling, we hope, of your newly bought laptop. Let's meet Thermaltake's T2000 notebook cooler.
- Thermaltake T2000 Notebook Cooler
Thermaltake Technologies cooling solutions has branched into the notebook market. The NBcool series of coolers is Thermaltake's latest innovation for cooling all kinds of notebooks. The T2000 series support up to 15" notebooks, utilizing fans starting from 70mm.
The NBCool T2000 is only half the size of an ordinary laptop but should be up to the task with two 70mm fans blowing onto the notebook. It is designed to elevate the notebook at an angle, increasing airflow and dispersing the heat from underneath, hence avoiding overheating. The NBCool series is powered from the computers USB port, avoiding the need to carry around any bulky AC adapters. The futuristic design is influenced by racing cars and a specially designed bright red vent on the sides contributes to it's sporty look. The design is very ergonomic and lets the wrists align more naturally when typing, increasing user comfort. Lightweight, portable, and stylish, this makes the NBCool series a perfect companion for your notebook when on the go or at home.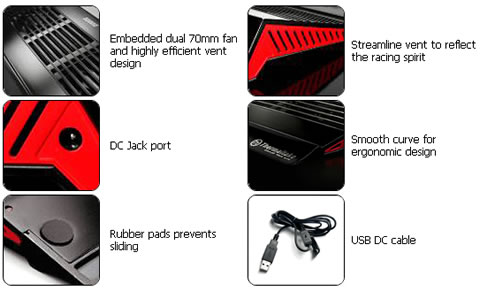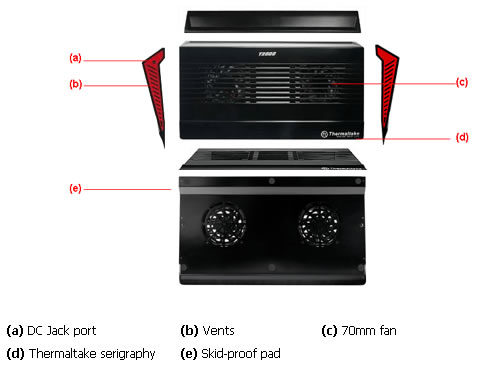 - Features
Supports most notebook dimensions
Supports all notebooks up to 15"
Ultra silent dual 7cm fans keep noise level to a minimum
Light weight for maximum portability
Black mirror finish look
Multi-vent design; more cool air intake for better cooling
USB Powered, eliminates bulky AC adapter
- Specifications
| | |
| --- | --- |
| P/N | R14PF03 |
| Application | For 12"~15" Notebook |
| Weight | 492g |
| Dimension | 330 x 186x 43.5 mm |
| Material | Plastic |
| Accessory | USB DC Jack cable |
Fan

Dimension

Φ70mm

Voltage

5V

Current

0.18A  

RPM

1200 ± 200RPM 

Noise level

18dBA