Tesla's Model Y SUV Arrives In 2020
Tesla CEO Elon Musk unveiled the Model Y crossover, a tall version of the Model 3, that arrives in late 2020.
The electric SUV looks a lot like an enlarged version of its top-selling Model 3 sedan. It will be available in late 2020 iat $39,000 for the Standard Range version, and will also come in Long Range, Dual-Motor All-Wheel Drive, and Performance variants.
"It has the functionality of an SUV but will ride like a sports car," Musk said. And as far range per charge, "expect true usable range of 300 miles."
Model Y prices will range from $39,000 for a base version due in 2021 to more than $60,000 for a performance-grade crossover.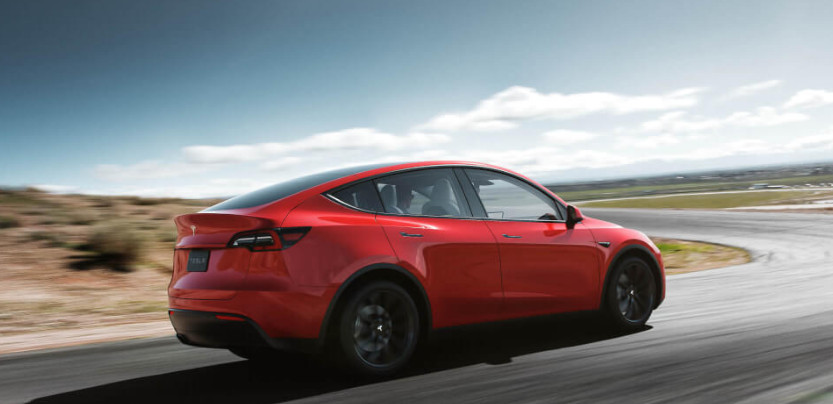 That range estimate appears to apply only to the $47,000 Long Range version of Model Y, while all-wheel-drive and performance versions will go 280 miles per charge and start at $51,000 and $60,000, respectively, based on a lineup chart Tesla showed at the event. A cheaper base version will start at $39,000 and offer 230 miles of range per charge, though it won't arrive until early 2021.
Although produced from the Model 3 platform, the roomier Model Y has 66 cubic feet of cabin space and will seat up to seven passengers, Musk said.
The front trunk and split-folding second-row seats provide a total of 66 cubic feet (1.9 cubic meters) of storage space. Like Model 3, Model Y requires no keys, but instead connects to your smartphone, with a single 15-inch touchscreen interface inside for all of the car's controls. Model Y also connects with the Tesla Mobile app for easy-to-access features like remote unlock, Summon, remote pre-conditioning, location tracking, Speed Limit Mode, and much more.
Model Y comes with the same home charging options as all Tesla cars, including the standard hardware required to access our global Supercharger network.
The cost to place an order for Model Y is $2,500 USD. The full payment will be collected at delivery.
Model Y is available to order in all of North America, parts of Europe and China. Specific countries: United States, Canada, Mexico, China, Norway, Netherlands, Germany, Switzerland, Sweden, Austria, Belgium and Spain.
Model Y production is expected to begin in late 2020 in North America, and in early 2021 in Europe and China. Standard Range production is expected to begin in early 2021 in North America, and in early 2022 in Europe and China.
Deliveries are expected to begin in Fall 2020 for Model Y Performance, Long Range Rear-Wheel Drive, and Dual-Motor All-Wheel Drive variants, and Spring 2021 for the $39,000 Model Y Standard Range.

Still, Model Y will arrive at a time when there will be direct competitors in the battery-powered crossover segment. Those range from Hyundai's new electric Kona hatchback, priced from $36,450, to VW's ID. Crozz SUV (due in 2022), Jaguar's $69,500 I-PACE, the $74,700 Audi e-tron and numerous others.
Specifications
 

Performance

Long Range AWD

Long Range RWD

Standard range

Battery

Long Range

Standard Range

Acceleration

3.5s 0-60 mph

4.8s 0-60 mph

5.5s 0-60 mph

5.9s 0-60 mph

Range

280 miles (EPA est.)

300 miles (EPA est.)

230 miles (EPA est.)

Drive

Dual Motor All-Wheel Drive

Rear-Wheel Drive

Seating

Up to 7 Adults

Wheels

20" Performance Wheels

18" or 19"

Max Cargo Volume

66 cu ft

Top Speed

150 mph

135 mph

130 mph

120 mph

Displays

15" Center Touchscreen

Supercharging

Pay Per Use

Interior

12-way power adjustable front and rear heated seats
Three independently folding 2nd row seats
Premium audio – 14 speakers, 1 subwoofer, 2 amps, and immersive sound
Satellite-view maps with live traffic visualization and navigation
In-car internet streaming music & media
Internet browser
Location aware automatic garage door opener
LED fog lamps
Tinted glass roof with ultraviolet and infrared protection
Auto dimming, power folding, heated side mirrors
Music and media over Bluetooth
Custom driver profiles
Center console with storage, 4 USB ports and docking for 2 smartphones