Technics SL-1200MK7 Turntable Launches in Japan
Panasonic will release the new Technics SL-1200MK7 direct drive turntable on May 24, priced at about 90,000 yen ($806.)
The all-black model will be produced in 300 units per month.
Since its first launch in 1972, the SL-1200 series has been extremely popular in clubs and studios, as a result of high quality and reliability. The last model was the SL-1200MK6, which had sold 350 million units worldwide by 2008.
The new SL-1200MK7 model promises to further improve the sound quality it produces, while maintaining the same basic layout and feel DJs have used to. It uses some of the technology of the SL-1200G model that was released in 2016. Conventional analogue turntables have problems with degradation in sound quality caused by factors such as minute speed vibration during rotation and rotation irregularity called "cogging." In the SL-1200MK7, the use of a newly developed coreless direct-drive motor with no iron core eliminates cogging. Also, the twin-rotor construction reduces the bearing load while maintaining high torque and also reduces minute vibration during rotation. The starting torque of the SL-1200MK7 is 1.8kg · cm (0.18N · m).
The turntable has a three-layered construction with a rigidly combined brass and aluminium die-cast platter. With a deadening rubber covering its entire rear surface to eliminate unnecessary resonance, thereby achieving high rigidity and vibration damping. This delivers smooth rotational stability and inertial mass surpassing the SL-1200MK6, as well as having more than twice the inertial mass of the SL-1200MK6. It goes from standstill to 33 1/3 r/min in just 0.7 seconds while wow and flutter is
0.025% W.R.M.S. (JIS C5521).
In addition, Panasonic has applied the motor control technology developed for Blu-ray devices, and switching the drive mode depending on the operational status of the motor achieves a high-starting torque and high-speed stability.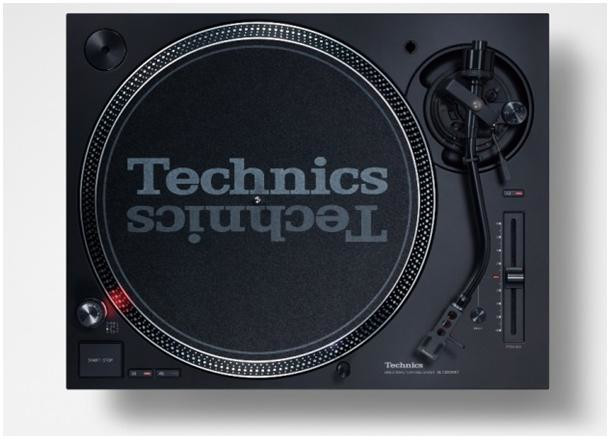 Torque and brake speeds can be adjusted (4 stages) to the desired level and a reverse rotation function for reproducing the record is also supported.
The use of brass-milled, gold-plated phono terminals and ground terminals prevent degradation in sound quality while enabling the easy attaching and detaching of cables. Also the use of metal shielding construction inside the case reduces the effects of external noise.
The tonearm employs lightweight magnesium which has a high damping effect, with cold drawing improving the characteristics of the material and achieving the high-precision required. In addition, high initial-motion sensitivity is attained by employing the traditional Technics gimbal suspension construction with horizontal rotation axis and the vertical rotation axis intersecting at a single central point, as well as high-precision bearings using a cut-processed housing.
The turntable supports rotational speeds of 33 1/3, 45 rpm and 78 rpm. The pitch control adjusts the rotational speed in a range of ± 8% / ± 16%, and offers improved accuracy using a digital position detection and a microcomputer to control the pitch slider.