Audio-Technica Exhibits Its Wireless Noise-Cancelling In-Ear and Wood Audiophile Headphones, New Turntable and More at CES 2020
At CES 2020 Audio-Technica is introducing a diverse range of products including the company's first truly wireless noise-cancelling in-ear headphones, the AT-LPW50PB turntable, high-performance headphones with exotic wood finishes, a new line of mics and more.
The QuietPoint ATH-ANC300TW (SRP: US$249.00, available spring 2020) features digital hybrid noise-cancellation that places the ANC microphones both in front of and behind the driver, for an ideal balance of ambient noise reduction and audio performance. The ATH-ANC300TW supports Bluetooth 5.0, apt and other codecs for wireless audio reproduction. The ATH-ANC300TW also features Qualcomm TrueWireless Stereo Plus, a special low-latency function that ensures that users can stream audio with a stable connection. Its operation can be customized with the AT Connect smartphone app.
The ATH-CKS5TW and its ATH-CK3TW truly wireless in-ear headphones (SRP: US$169.00 and US$119.00, currently available) both offer long-lasting battery life and Bluetooth 5.0 wireless technology and high audio quality including aptX. Both deliver enhanced audio quality thanks to Qualcomm cVc Clear Voice Capture that improves clarity during phone conversations. The ATH-CK3TW features Qualcomm TrueWireless Stereo Plus for reliable streaming.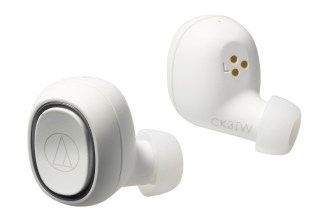 The AT-LPW50PB belt-drive turntable (SRP: US$399.00, available spring 2020) combines a high-fidelity listening experience with a high-gloss piano black finish. The turntable provides 33-1/3 and 45 RPM speeds and its carbon fiber tonearm is fitted with an AT-VM95E moving magnet (MM) phono cartridge. The AT-LPW50PB features a built-in phono preamp for use with the widest variety of audio components.
The over-ear ATH-AWKT and ATH-AWAS audiophile and over-ear ATH-WP900 portable headphones combine beautifully crafted woods, and the ATH-IEX1 features a hybrid multi-driver system. All four models offer Hi-Res Audio capability.
Handcrafted, the ATH-AWKT, ATH-AWAS and ATH-WP900 (SRP: US$1,899.00, US$1,399.00, US$650.00, available March 2020) feature housings from prized Kokutan (striped ebony), Asada Zakura (ironwood) and flamed maple wood. Audio-Technica's ATH-IEX1 (SRP: US$1,200.00, available January 2020) sets a new standard for in-ear listening thanks to its hybrid multi-driver system.
The ATH-SPORT90BT features a built-in music player and along with the ATH-SPORT60BT includes fitness-friendly features like IPX5 waterproof-rated construction, a built-in mic and controls, and stay-in-place designs. Both feature built-in headphone amplifiers and improved high-sensitivity drivers. Audio-Technica's SonicSport ATH-SPORT90BT (SRP: US$159.00, available spring 2020) includes a built-in 4GB music player. The ATH-SPORT60BT (SRP: US$79.00, available spring 2020) offers a multipoint pairing function that allows connection to two Bluetooth devices at once.
Audio-Technica's new ATR Series microphones feature improved performance and are ideal for a wide range of consumer and "prosumer" applications including streaming, podcasting, recording, live performance and more. A wide range of handheld, desktop, vocal/instrument, clip-on, camcorder and other mics are available, at suggested retail prices ranging from US$19.99 to US$149.00. Audio-Technica is also introducing the TR2x-USB 3.5 mm to USB-C digital adapter (SRP: US$19.99), which converts any microphone or headphones with a 3.5 mm (1/8-inch) plug into a USB-compatible device.
Audio-Technica is featuring its high-performance OC9X Series cartridges. Each AT-OC9X Series model features a Dual Moving Coil structure, which delivers improved channel separation for a more precise stereo image and wider frequency response.
AT-OC9X Series cartridges are currently available with a choice of stylus types including Special Line Contact (AT-OC9XSL), Shibata (AT-OC9XSH), microlinear (AT-OC9XML), nude elliptical (AT-OC9XEN) and bonded elliptical (AT-OC9XEB). Pricing is as follows: AT-OC9XSL, US$729.00; AT-OC9XSH, US$649.00; AT-OC9XML, US$549.00; AT-OC9XEN, US$349.00; AT-OC9XEB, US$239.00.
Audio-Technica's ATH-G1WL wireless and ATH-G1 gaming headsets deliver spacious audio quality and in-game voice communication.
The wired ATH-G1 (SRP: US$169.00, currently available) is compatible with computers, PlayStation 4, Xbox One and any platform with a 3.5 mm headset connector. The wireless ATH-G1WL (SRP: $249.00, currently available) adds stable, lag-free wireless connectivity, a long 15 hours of battery life and a virtual surround sound function. Its wireless USB transceiver ensures compatibility with computers.