1. Introduction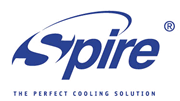 Since 1991, Spire has provided us with a wide range of cooling solutions, PC cases, power supplies and modding accessories. Having already reviewed two coolers for AMD processors, its time to take a look at Intel processor coolers as well. In the following pages we will be reviewing the SP495S11-U QuieTude VI, an Intel P4 Socket 478 compatible CPU cooler.
The Cooler...
The SP495S11-U is a simple enough cooler, without any innovative technologies, apart from the QuieTude VI fan. As for the design, here Spire has made a change to the translucent blue Diamond fan located on the top of the heatsink, and is more UV reactive. This gives a nice glow to the cooler, with the appropriate UV light installed inside the case, which will excite all case modding enthusiasts. The QuieTude VI is an upgrade to the QuieTude V and apart from the new look we referred to earlier, also features an ultra-silent 19.0dBA fan. This new fan generates higher airflow giving the QuieTude VI™ improved cooling performance.
The diamond cooler...
The copper core is located at the base of the heatsink, which by default is covered with a thin layer of thermal compound, making for easy installation of the cooler onto the CPU without the need to apply thermal paste. In fact, the use of the original thermal compound is suggested by the manufacturer for better results.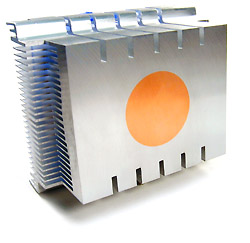 The copper core heatsink, paste free...
Here are the detailed specifications as provided by Spire :
Socket 478 Cooling kit

Product Name

SP495S11-U QuieTude VI™

Dimensions

Heat Sink : 100x83x50 mm ( l × w × h )
12VDC Fan : 80x80x25 mm

Bearing

Sleeve bearing

Rated speed

2300 RPM +/-10%

Rated power

1.20 W

Noise level

19.0 dBA

Air flow

25.78 at 2,300 RPM +/-10%

Current

0.10 A

Life hours

Sleeve: 30.000

Features

Blue transparent diamond fan, Copper core heatsink, tool-less installation

Connector

3 pin, mainboard

Application

Celeron D ~ 2.93 GHz 340J
Pentium 4 ~ 3.6 GHz (Prescott)
Pentium 4 ~ 3.4 GHz (Willamette / HT NW)

Thermal resistance

0.335 °C/W

Thermal type

White grease pre-applied
The SP495S11-U QuieTude VI is compatible with three types of P4 Socket 478 processors as can be seen from the above table.