Sony PSP Gets Support For WMA
Sony released a new fimware for its PSP portable game console, which adds support for reproduction of WMA (Windows Media Audio) files. The v2.60 firmware is currently available in Japan and will be released later worldwide. The updated PSP is capable of playing WMA files transferrd from Sony's Memory Stick Duo, but does not support the WMA 9 Pro and WMA Lossless formats. In addition, the PSP should be connected to the internet in order to activate the WMA reproduction function, through an updated GUI.
Moreover, the new PSP gives user the chance to automatically connect to specific RSS channels (Really Simple Syndication) and download audio streams. The technology conforms to the RSS 2.0 specifications (like Pod Casts) but supports streaming of audio MP3 and MP4 (AAC) contents only, not video. However, the weak point of the specific feature is that the audio streams cannot be stored on the PSP in order to be reproduced when the system is offline.
Last, the v2.60 firmware adds support for simplified Chinese and traditional Chinese to the Internet browser of the device.
For more information and download of the new firmware visit
http://www.playstation.jp/psp/update/ud_01.html
.
The firmware can be downloaded either through the network function of the device (wireless LAN), or by storing the firmware files to the Sony Memory Stick. Moreover, it is possible to update your PSP through the latest UMD software.
In addition to the Podcast and Windows Media Audio support, the new software adds compatibility for a Copyright-protected video service, called "PortableTV".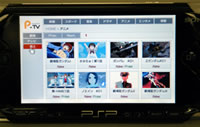 The video distribution service was announced last July and would allow downloading of videos directly to the PSP's build-in internet browser. The new version of the service is not free, however, but allows downloading of 480 x 270 H.264 videos directly to the Memory Stick Duo. Sony Japan has already prepeared 400 video titles, which are music video clips, movies, cartoons etc. It also aims to release more than 1000 titles by spring 2006.
The videos are encrypted (Sony's DRM) and thus, they cannot be transferred to PCs.
Note that the specific download is for Japanese users only, or for all those who own the Japanese version of the PSP (PSP-1000 series). Sony is expected to release the firmware regionally soon.