6. CD Recording Tests
- CD-R Format
The drive supports 8X, 16X, 24X, 32X and 40X writing speeds.
According to Nero CDSpeed, the reported average speed when recording at 40X is 32.45X.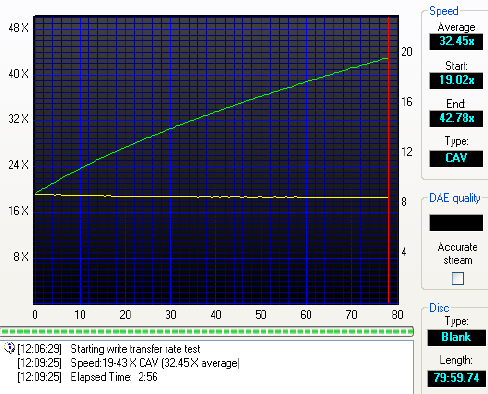 - CD-R Recording Times
We created an 80min data compilation with Nero Burning Rom and recorded it on a 700MB disc. The writing performance varies only slightly, depending on the media. Below is a chart showing all recording times with various media.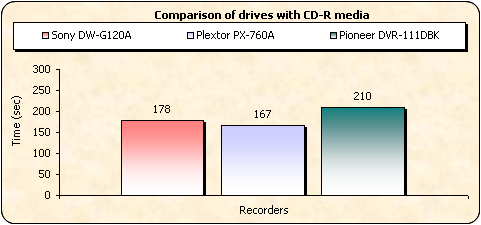 The Sony and Pioneer support only 40X writing speed for CD-R media, so we expected the Sony to require longer burning times. But it proved otherwise, nearly reaching the burning times of the PX-760A 48X CD-R burner.
- CD Overburning
According to Nero CD-DVD Speed, the drive can overburn up to 100min.

- CD-RW Format
The drive supports both the HS-RW and US-RW formats. With RW media, 4x CLV, 10x CLV, 16x CLV, 20x Z-CLV and 24x Z-CLV writing speeds are available.
The drive, when recording CD-RW at 24X , reported an average writing speed of 22.52X.