24. Booktype Setting
Since the SONY DW-G120A is a Mediatek based drive, the RPC region control can be easily disabled and the drive made region free.
With the appropriate utilities, you can backup the current firmware, read the supported media list for the current firmware, as well as define the recording speed of individual media.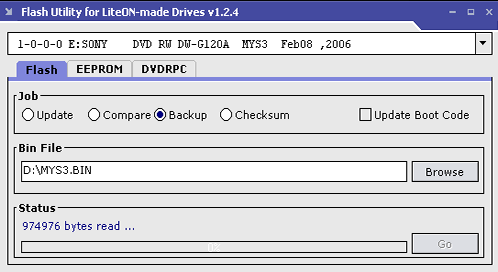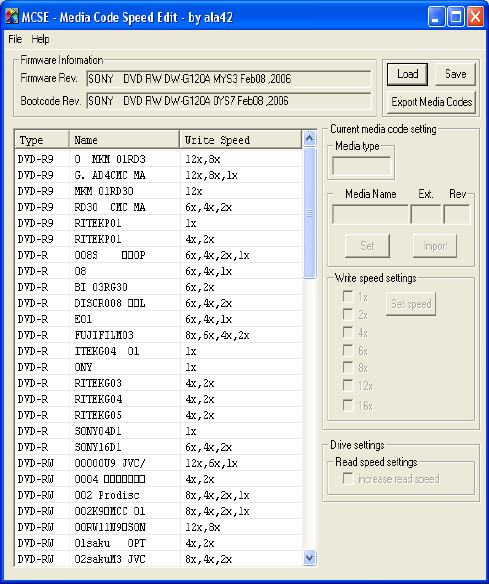 By using the Media Code Speed Edit utility, we managed to read the compatibility list for firmware revision MYS3, but unfortunately not for all formats, just the minus.
DVD-R9 supported media types: 6
MKM 01RD3 12x,8x
AD4CMC MA 12x,8x,1x
MKM 01RD30 12x
RD30 CMC MA 6x,4x,2x
RITEKP01 1x
RITEKP01 4x,2x
DVD-R supported media types: 13
008S 6x,4x,2x,1x
08 6x,4x,1x
BI 03RG30 6x,2x
DISCR008 6x,4x,2x
E01 6x,4x,1x
FUJIFILM03 8x,6x,4x,2x
ITEKG04 01 1x
ONY 1x
RITEKG03 4x,2x
RITEKG04 4x,2x
RITEKG05 4x,2x
SONY04D1 1x
SONY16D1 6x,4x,2x
DVD-RW supported media types: 57
00000U9 JVC/ 12x,6x,1x
0004 4x,2x
002 Prodisc 8x,4x,2x,1x
002K9MCC 01 8x,4x,2x,1x
00RW11N9SON 12x,8x
01saku OPT 4x,2x
02sakuM3 JVC 8x,4x,2x
03 RIT 6x,2x,1x
04 DAXON_RW2 12x,8x
1 PRINCORÿÿÿ 16x,12x,8x,6x,4x,2x,1x
11n9 OPTODIS 8x,4x,2x,1x
1Victord7 TD 12x,8x,4x,2x,1x
501saku]3 1x
701saku OP 6x,4x,2x,1x
BI01RWG 20 6x,4x,2x
C/VictorT7T 6x,2x,1x
C1Victord7 T 6x,2x,1x
CORÿÿÿÿÿÿÿÿ 16x,12x,8x,6x,4x,2x,1x
CW04 J 4x,2x
DIA 2x
DISCW006 6x,4x
DK501saku]3 1x
DK601saku 8x
FOMEDIAA20 P 6x,1x
IAA20 PRINCO 8x,4x,2x,1x
INCORW2X01 P 4x,2x
INFOMEDIA 2x
ISCW006 6x,4x
ITEKW06 6x,4x,1x
JVC/VictorT7 8x,4x
JVC0VictorD7 8x,4x
MCC 00RW11N9 8x,2x,1x
MCC 01RW11n9 6x,4x,2x,1x
MCW02 8x,2x
MCW04 8x,4x,2x
MKM 01RW6X01 8x,2x
NCORW0004 4x,2x
ODISCK001MC 12x
ONY000000U9 8x,4x,2x
ON_RW2X01 PR 6x,4x,2x
PTODISCW002 12x,8x,2x
RINCO 12x,8x,2x
RITEK000V11A 8x
RITEKW01 4x,2x
RITEKW04 6x,4x,1x
RITEKW06 4x,2x
SCK001PVCW0 4x,2x
TODISCW004 P 12x,6x,4x,2x,1x
W00V00245TD 12x,8x,4x,1x
W04 MBI0 8x,2x
WG 20 INFOM 4x,2x
aku]3 1x
ctorT7TDK50 12x,8x,2x,1x
disc DW06 CM 8x,4x,2x,1x
ictorW7 OPTO 6x,1x
odisc DW04 D 8x,6x
odiscDVDRWO 8x,4x