Sharkoon Silent Eagle 2000
2. Performance Tests
We used the latest SpeedFan to see the rotation speed produced by the Silent Eagle. Unfortunately, there is no way to increase or decrease the rotation speed so the fan is firmly set at 2000RPM.
We tried to find a way to test the performance of the Sharkoon Silent Eagle which would prove or disprove if this design truly offers better performance. In order to accomplish this, we used a copper based CPU cooler (without a fan) and installed on it a normal fan that is modified to have a steady, controlled rotation speed of 2000RPM. We then measured the temperature at CPU idle with SpeedFan. Always keep in mind that the Silent Eagle is not a CPU fan but a case fan. Our test setup is merely a way to see how effective the fan really is.
Then, we let the system cool down for about an hour and then installed the Sharkoon Silent Eagle 2000, measuring again the CPU temperature. For our tests, we used an AMD 3800+ CPU, but this is not so important since you should not judge the Silent Eagle by the CPU temperature value, but by the CPU temperature difference between the Sharkoon fan and the normal fan.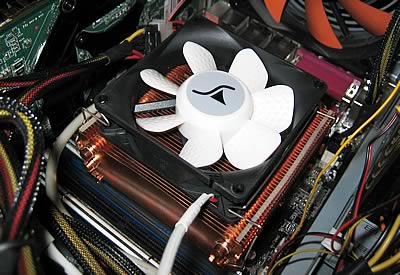 As you can see, the standard fan reported 41°C at 2000RPM...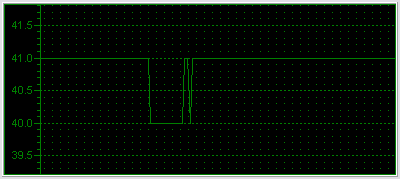 normal fan - 2000RPM
... while the Silent Eagle gave us 39°C at the same rotation speed.
Sharkoon Silent Eagle 2000
At this point you might think that 2°C difference is not that much. This isn't entirely correct. While the temperature drop is not anything dramatic, it is nonetheless a difference. And as a case fan, the 1°C drop in CPU temperature in our test setup is the equivalent of about 3°C PC case temperature. In which case, the temperature drop is significant and we shouldn't forget that the fan spins at 2000RPM which is really quiet.