5. Final words
The Seagate FreeAgent Desk 500GB external hard disk drive comes in a complete package, a very attractive price, offers good features and it is backed by five (5) years of warranty.
We didn't have any seconds thoughts to get this external device, especially considering its low retail price and what the competition offers. The package is complete, with an adapter included, cables and printed manual. You should not have any problems getting started. The pre-installed Seagate backup software works well and may be a convenient add-on for your hard disk. In case you don't need it, you may save 80MBs by removing it. However, you 'd better store the software somewhere else, because Seagate does not offer any downloadable version of it. Also remember that the software works only under Windows.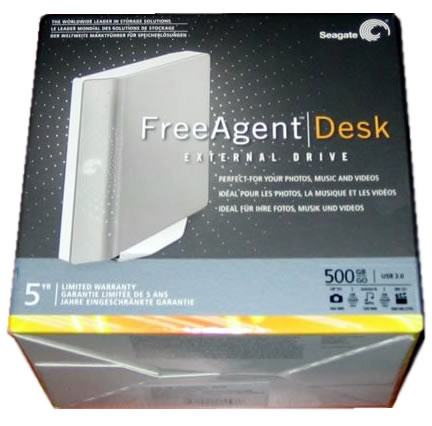 Passing to the performance, the drive read at 33MB/sec gave an average access time of 13ms. While these numbers are not very big, they were partially expected since the drive comes with a USB2.0 interface. For sure, the internal HDD drive can go beyond that point and if you choose the FreeAgent Desk "Pro" series, with eSATA&Firewire, you may be able to confirm it.
We also have to mention that the external (plastic) case of the HDD gets really hot after a while.
Summing up, the Seagate FreeAgent Desk 500GB external hard disk drive is a decent and affordable backup solution for home/office use. If you are looking for speed, get another HDD with eSATA interface.