9. DVD Writing Tests
- Writing Performance
Now we will check the burning performance with DVD media. Below, the available writing speeds can be seen, as reported by Nero Burning Rom.
By using Nero CDSpeed with DVD-R and DVD+R media, we are able to see the 16X writing strategies.
- DVD+R media @ 16X CAV
- DVD-R media @ 16X CAV
- Burning Tests
DVD-R media
The writing times for DVD-R media were average from the Samsung SE-W164C burner, which managed to complete a 16X burn in less than 6 minutes with only two discs. Other than that, while Optodisc media is 16X certified, it was burned as 12X media and Datawrite media which is 8X certified, was burned at 4X.
DVD+R media
This time, the compatibility list at 16X is large for DVD+R and the recording time was at or under 6 minutes for most of the media, with the main exception being Plextor, which took 13:36 mins.
- Comparison with other drives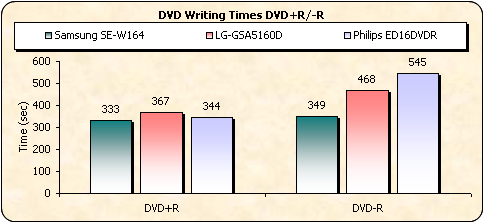 Comparing the three DVD Burners, the Samsung SE-W164C proved to be faster with all formats.
- DVD Overburning Tests
The Samsung SE-W164C does not support DVD overburning.