Samsung Gear 2 and Gear 2 Neo Smartwatches Are Official
Samsung Electronics today introduced the Samsung Gear 2 and Gear 2 Neo smartwatches, both based on a Tizen-based wearable platform. Tizen is an operating system Samsung is developing with Intel and a handful of telecommunications companies, including Japan's NTT DoCoMo and France's Orange SA. Samsung keeps working with Google, using its Android operating system to power most of its devices.

"Samsung continues to lead innovation in the wearable market by creating devices that are completely integrated into the lives of consumers through extended connectivity features, stylish customization options and a robust application ecosystem," Said JK Shin, CEO and President of IT & Mobile Division, Samsung Electronics. "With the Samsung Gear 2 and Gear 2 Neo, we have enhanced everything consumers love about the Gear to offer unparalleled smart freedom in their everyday life."

Samsung said its new smartwatch will come in two models, including a lower-priced version with no camera function.

Both devices offer a lightweight design. A Camera is equipped to a main body instead to strap, making the Samsung Gear 2 a sleek smart companion. The lower-priced Gear 2 Neo version has no camera function.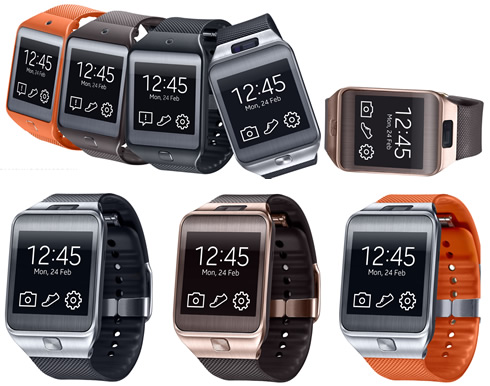 Strap color options include Charcoal Black, Gold Brown and Wild Orange for Gear 2 and Charcoal Black, Mocha Grey and Wild Orange for Gear 2 Neo. The home screen background, clock face and font are also customizable.
The Gear 2 and Gear 2 Neo are companion devices, as they allow users to accept or ignore incoming calls and messages, and providing notification options based on a user's activity.
Both devices are also offering users standalone features, such as controlling electronic products such as TV, settop box through WatchON Remote application in their own home with an embedded IrLED sensor. They also feature a standalone music player with Bluetooth headset.
Both devices also offer personal fitness coaching in real time, allowing users to develop a customizable fitness routine and monitor their heart rate.
Finally, the Samsung Gear 2 and Gear 2 Neo let users connect to a variety of Samsung devices and access an application ecosystem as the first wearable powered by Tizen based wearable platform. Samsung Gear 2 and Gear 2 Neo are compatible with more than dozens of Samsung Galaxy smartphones at launch.
Samsung Gear 2 and Gear 2 Neo will be available around the world starting from April.
Google and LG are also said to be working on a smartwatch that will be unveiled in June at the Google I/O conference.
Display

1.63" Super AMOLED (320 x 320)

AP 

1.0 GHz Dual Core Processor

OS

Tizen based wearable platform

Camera

Gear 2 : 2.0 Megapixel Auto Focus (1920×1080, 1080×1080, 1280×960)

Gear 2 Neo : N/A

Video

Codec: H.264, H.263

Format: 3GP, MP4

HD (720p, @30fps) Playback & Recording

Audio

Codec: MP3/AAC/AMR/Vorbis

Format: MP3, M4A, AAC, OGG

Camera features

Auto Focus Camera, Sound & Shot, Location Tags, Signature

Additional features

Fitness Features:

Heart Rate sensor
Pedometer
Exercise

Standalone Modes: Running, Walking

Companion Modes: Cycling, Hiking

Sleep&Stress (Downloadable)

Music Player with Bluetooth Headset and Speaker

WatchON Remote: Remote Controller via IrLED Sensor

Basic Features: Bluetooth Call, Camera, Notification(SMS, E-mail, Apps), Media Controller, Schedule, Smart Relay, S Voice, Stopwatch, Timer, Weather

More Features (Downloadable): Calculator, ChatON, Flashlight, Quick Settings, Voice Memo

Changeable Strap

Color Options:

Gear 2 : Charcoal Black, Gold Brown and Wild Orange
Gear 2 Neo : Charcoal Black, Mocha Grey and Wild Orange

IP67 Certified Dust and Water Resistant, Noise Cancellation

Featured App

Banjo, BMW, CNN , Conde Nast, Expedia, eBay, Evernote, Feedly, GARMIN, Glympse, GM (Onstar 4GLTE), iControl, Line,Path, Paypal, RUNTASTIC, Volkswagen, Weather Channel, Under Armour (Map my fitness)

Samsung Services

Samsung Apps

Connectivity

Bluetooth v4.0 LE, IrLED

Sensor

Accelerometer, Gyroscope, Heart Rate

Memory

RAM: 512MB

Storage: 4GB Internal Memory

Dimension

Gear 2 : 36.9 x 58.4x 10.0 mm, 68g

Gear 2 Neo : 37.9 x 58.8 x 10.0mm, 55g

Battery

Standard Battery, Li-ion 300mAh

Typical Usage 2~3 days, Low Usage up to 6 days