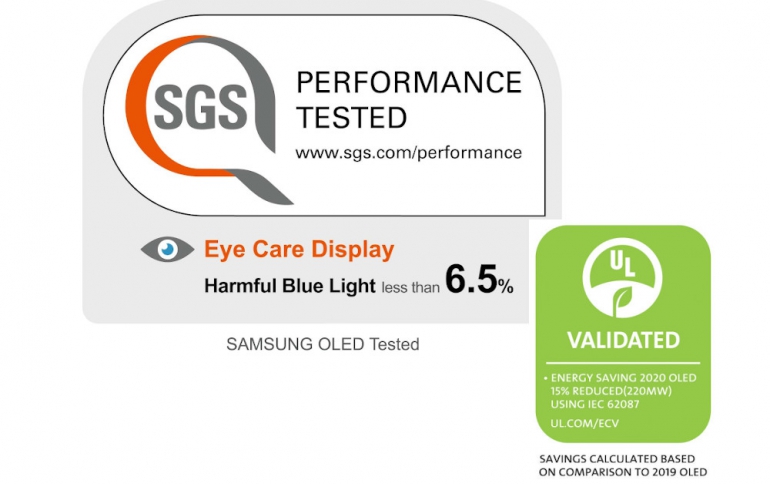 Samsung Display's OLED For Smartphones Gain International Certifications
Samsung Display today unveiled an optimized OLED display for 5G smartphones with newly reduced blue-light emission and lowered power consumption.
The tech giant said that the latest smartphone OLED display has earned certification of 'Eye Care Display' from SGS and validation of 'Energy Savings' from UL, for successfully lowering blue-light emission and power consumption, respectively.
According to an official from SGS, the newly developed OLED display emits 6.5 percent blue light, significantly lower than the 7.5 percent level of the Samsung OLED smartphone panel released last year. Samsung Display noted that its OLED products also have about 70 percent less blue light emissions than most current LCD smartphone displays.
Furthermore, UL reported that the power consumption has dropped by 15 percent. The testing agency evaluated the power level while people were taking pictures, viewing news and entertainment, and surfing over the internet. The average power consumption of newly released Samsung Display OLED panels dropped from about 1.5W to 1.3W, amounting to the 15 percent decrease.
Recent industry forecasts show the percentage of 5G smartphones in the global smartphone market is projected to increase from 14 percent (190 million units) this year to 50 percent (750 million units) by 2024. Monthly smartphone data usage is also predicted to substantially increase from 7GB in 2018 to 32GB by 2024.