Primera Composer - Signature III
7. Composer CDR Software
Primera Composer/Signature III System - Page 7
Composer CDR Software
For the "Composer" system you don't need to install any drivers but only the included CDR software, which is Prassi PrimoCD Pro (Primera version) v1.3.392. This is a modified version of the well-known Prassi PrimoCD Plus, which controls the duplicator.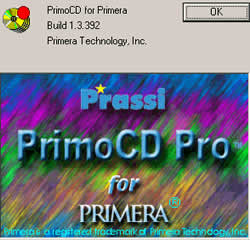 When you run the Prassi PrimoCD Pro for the first time, a screen will popup and will ask from you to select where the Composer recorder is installed: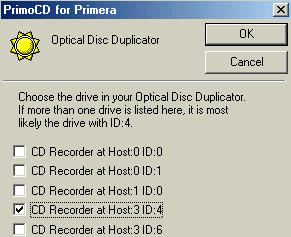 In our case the Plextor PX-W1210A had the ID4. After pressing OK you will see the familiar interface of the Prassi PrimoCD Pro, which this time has some extra buttons. The new buttons control the robotic arm (insert/remove CD from the CDR-W drive). If we press the forth button the robotics option will come up:
From here you can select the port in which you have installed the composer serial cable and the printer port (in our case LPT1). Also you can check the communication between the PC and the Composer in order to see any possible troubles.
Continuing we find the robotics movement test tab. From here we can test the robotics movements in a full circle (only for copying/printing or for both tasks). All the other options are the same with the normal Prassi PrimoCD Pro we had tested in past..
PrimoCD Pro offers a variety of options:
- Duplicate CDs (using your CD-ROM - or using a CD image). The Prassi PrimoCD is not very good here. If the CD has read errors (as most of the current protected CDs does) the reading/writing process simply stops. We feel that Padus DJ should be a better solution in this area.
- Streaming feature, in which the user places the master CD -that would be copied- among with the number of the blank CD to be written. The Composer loads the master CD, makes an image of it and makes as many copies as the number of the existing blank CDs. Multiple master CDs can be mixed with the blank CDs, you will have to specify the numbers of the blanks now of each task and cue the jobs.
- Store your HD data and make multiples copies of it. Here is where the PrimoCD Pro real weakness is...It's almost impossible to manage the folders/files in the way you want in a very easy way since the problem doesn't support the famous explorer which the competition supports (Padus DJ).
From what we have noticed there are more software solution in case you want something more powerful ,especially in the area of CD to CD copy since they support DAO-RAW writing. Padus plan to fully support the Composer/Signature III system in the near future so possible buyers would have much more options than the Prassi PrimoCD offers (especially in the duplication of protected CDs).