Primera and Imation to Offer Water-Resistant Inkjet-Printable CDs and DVDs
New TuffCoat with AquaGuard surface CD and DVD recordable media are protected against damage caused by raindrops, snowflakes and liquids. Primera Technology, Inc. announced its new TuffCoat with AquaGuard surface by Imation water-resistant media.
The AquaGuard surface offers water and smear resistance. Leveraging a proprietary surface that utilizes nanoparticle technology to grip and hold ink, printed images are locked in place exactly where originally applied, even when exposed to water and humidity.
In addition, with its pure white surface, TuffCoat with AquaGuard provides the contrast and illumination needed for better color reproduction and more brilliant images.
Another advantage of the new discs is that they are more cost-effective. Other methods of protecting a recordable CD or DVD against water, such as lamination and expensive reverse thermal transfer printers, are no longer required. This allows businesses and consumers of all types to use much lower cost disc printers and duplication equipment. Production is faster since no additional steps are required to receive professional-quality, robust and highly water-resistant results.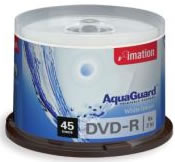 All of Primera's inkjet-based disc duplication and printing equipment supports the new TuffCoat with AquaGuard surface media, including the Bravo II, BravoPro and Bravo XR Disc Publishers as well as the Signature-series inkjet CD/DVD printers.
TuffCoat with AquaGuard surface is available at the end of January 2006 at www.primerastore.com as well as through Primera?s Authorized Resellers and Authorized Distributors.