Pricing and Availability for Sony's New BRAVIA OLED 4K HDR TV And Home Audio Devices
Pre-sales begin today on Sony's first large consumer OLED TVs and the company's new home audio devices, with prices for the XBR-A1E BRAVIA OLED 4K HDR TV to start from $5,000 - more than LG is charging for most of its 2017 OLED TVs.
The BRAVIA OLED 4K HDR TV will be available in stores beginning in April 2017 and will be on display starting today at Sony Square NYC, a showplace for the latest in Sony entertainment and technology located in New York. The XBR-A1E OLED TV is powered by Sony's 4K HDR Processor X1 Extreme, which supports HDR10, HLG, and Dolby Vision, Sony's Acoustic Surface sound system, and an edge-to-edge stand-less form factor. It features over 8 million self-illuminating pixels.
The A1E's design eliminates any visible stand or speakers. The result is a form factor with no distraction from the picture.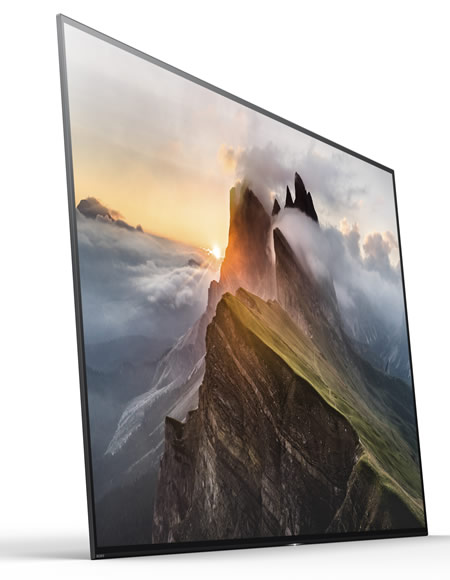 These new BRAVIA OLED 4K HDR TVs are powered by Android TV and of cours, they have Google Assistant built-in. And PlayStation Vue, the Internet-based live TV streaming service gives consumers the option to watch their favorite live TV, movies and sports content without a cable or satellite subscription and without any recording conflicts.
XBR-77A1E, 77" class (76.7" diagonal), TBD MSRP
XBR-65A1E, 65" class (64.5" diagonal), $6,499.99 MSRP
XBR-55A1E, 55" class (54.6" diagonal), $4,999.99 MSRP
The 55" and 65" class televisions are now available for pre-sale from Amazon, Best Buy and other authorized dealers across the U.S. and will be available in stores beginning in April 2017.
Those US prices are higher than what LG, the principal OLED TV proprietor, is charging for most of its 2017 OLED TVs. LG Display manufactures essentially all of the world's OLED TV panels, including those used by Sony. Panasonic and Philips also sell OLED TVs in Europe.
Pricing and Availability for Home Audio Devices
Sony also today announced pre-sales on its new line of audio products for 2017. The line-up features an advanced audio/video receiver (AVR) and two new sound bars, the flagship HT-ST5000 and compact HT-MT300 models. The lineup will be available in stores March 2017.
The STR-DN1080 HiFi AV Receiver offers improved sound quality, flexible speaker solutions, and support for the latest audio formats such as Dolby Atmos and DTS:X. In combination with Sony's "Phantom Surround Back" technology, consumers can enjoy 7.1.2ch surround effects even if a 5.1.2ch speaker system is a better fit for their space.
The STR-DN1080 includes Sony's latest sound field compensation technology, D.C.A.C. EX, which combines Advanced D.C.A.C.2 with Speaker Relocation. This technology balances output to closely simulate sound as would be produced by optimally positioned and angled speakers.
The STR-DN1080 helps deliver optimal video with six HDMI inputs and two outputs that provide full HDCP 2.2 compliance and supports the latest 4K 60P 4:4:4.3 Ultra HD content. It can also distribute both 4K video and multichannel audio simultaneously to two different zones. The STR-DN1080 is even compatible with the new BT.2020 wide color gamut broadcast standard for HDR content.
The STR-DN1080 also supports High-Resolution Audio including DSD native playback and is equipped with USB, Bluetooth, Google Assistant, Spotify Connect and Wireless Multi-Room capabilities.
The STR-DN1080 will be available in stores May 2017 for $599.99 MSRP from authorized Sony dealers.
The HT-ST5000 is Sony's new flagship 7.1.2ch 800W sound bar featuring Dolby Atmos, Hi-Res Audio and twelve advanced speakers with a stylish design. The ST5000 utilizes separate drivers to reproduce a full range of sound that supports High-Resolution Audio playback. With three HDMI inputs, one HDMI ARC output, a USB input, Bluetooth, NFC, as well as digital optical and analog connections, there's a connection for all your equipment. The ST5000 maintains quality from source to screen with support for 4K and High Dynamic Range (HDR) content from major studios via HDMI with HDCP 2.2 support.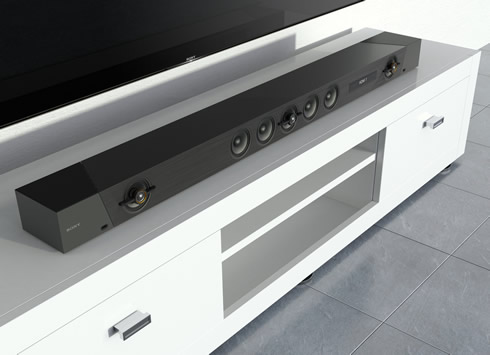 The ST5000 supports multi-room capability and also works with Google Home - a voice-activated speaker powered by Google Assistant. With Google Home, you can voice control your ST5000 sound bar to turn up the volume, skip to the next track, or stop the music - all without lifting a finger.
The HT-ST5000 will available for pre-sale in May will be available in stores July 2017 for $1,499.99 MSRP.
The HT-MT300 is a compact sound bar with soft angles and a choice of neutral colors. The wireless subwoofer stands neatly upright next to or in between your furniture. The S-Force PRO Front Surround technology is placing the listener right in the heart of the movies by emulating theater-style surround sound. There is also support for Bluetooth and NFC as well as the ability to change settings and control playback from a smartphone. A USB port in the back allows you to connect USB devices for easy playback.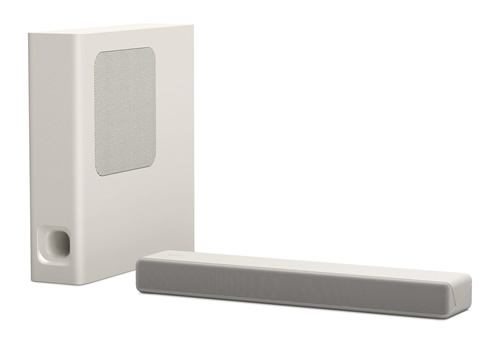 The HT-MT300 is available for pre-sale today and will be available in stores March 2017 for $349.99 MSRP.