1. Introduction

Point of View is a relatively new graphics card retailer and an official NVidia Partner. All Point Of View graphics cards are covered by a 3-year warranty and as part of their new campaign, all cards will be accompanied by the hottest games.
In this review we'll take a look at an NVidia 6200 TurboCache from POV. The 6200 TC is an entry level card for the low-budget market, below $100.
- Packaging/Bundle
The 6200TC ships in a relatively small package, which features the iguanna theme from Point Of View on the front. Large stickers also on the front, indicate the card's main characteristics, such as TurboCache technology with support for up to 256MB RAM, the 128-bit bus and the PCI-Express slot type.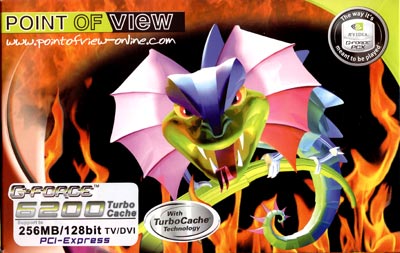 Point Of View 6200 TurboCache
Inside the packaging you'll find the following:
- Full DVD version of Thief: Deadly Shadows
- S-Video cable
- 6200TC Product Manual
- POV Driver CD
Yes, strangely enough as part of their King of the Bundle campaign, POV decided to include Thief 3: Deadly Shadows with the 6200TC. That was quite surprising for us, as that particular game is known to be very GPU intensive and even high end cards have trouble delivering enough framerates. We'll see how the POV 6200TC performed with that game later on.