Two Additions to NVIDIA's GeForce 7 Series
NVIDIA announced two additional graphics processing units (GPUs) to its GeForce 7 Series product line the GeForce 7600 GS SLI-Ready and the GeForce 7300 LE. The GeForce 7600 GS SLI-ready features a capacity of 256MB of graphics memory, a GPU core and memory that run at 400MHz, a memory interface of 128 Bit and 12 Pixel pipelines. The suggested retail price is &euros; 149.
The GeForce 7300 LE GPU delivers a memory of 128MB/256MB, a GPU core speed of 450MHz and a memory speed of 333 MH. It features a memory interface of 64 Bit and it has 4 Pixel pipelines. The suggested retail price is &euros; 99.
The 90 nm GPUs are ready for Microsoft Windows Vista and they handle all DirectX 9.0 challenges without any problem. and deliver H.264 hardware accelerated support through NVIDIA PureVideo technology.
European manufacturer Point of View, announced yesterday it is launching nVIDIA's GeForce 7600 GS in two versions in two versions of 256MB and 512MB.
XFX also announced two models of the 7600 GS series graphics cards: the GeForce 7600 GS and the GeForce 7600 GS extreme edition.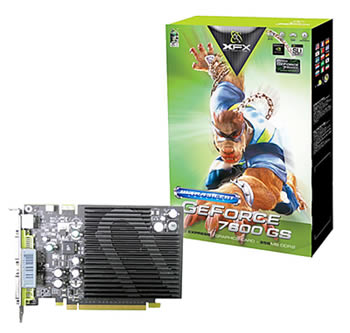 In the GeForce 7600 GS model that can be seen in the picture above, XFX has increased the memory speed to 800 MHZ. As for the XFX's extreme edition, the core and memory are both overcloked to 500 MHz and 900 MHz.
For more information go to
nvidia
.