8. HS-RW Writing Tests
Plextor PX-S2410T portable CD-RW drive - Page 8
HS-RW Writing Tests
We used Nero Burning Rom for writing CDs in the maximum RW speed Plextor PX-S2410TU. The drive supports the 10X CLV maximum rewriting speed.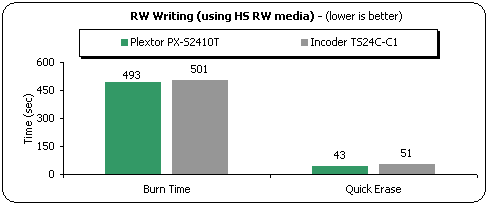 The Plextor drive finished the task in 8:13 minutes, and needed 43 seconds to perform the "quick erase" task with Nero. The INcoder drive 8 seconds is slower.
- Packet Writing Tests
We used InCD and Ricoh HS-RW media for all Packet Writing tests. The formatting of the media takes around 10min. The formatted disc had 530mbs of free space. We copied a 403 MB file (403.147 kbs) from a Hard Disk (on the same PC as the writers) to the formatted RW media-using explorer (we dragged and dropped) we completed the test twice to eliminate possible time measurement faults and user errors:
In the writing part, the PX-S2410S gave a 7.11X average speed, and was even faster in the reading test with 8.27X. The INcoder drive seems to have some problems in the reading part, since it gave a very low performance.
- Mount Rainier Tests
Plextor PX-S2410TU officially supports the Mt Rainier format. Unfortunately we did not manage to perform the usual tests with InCD since the drive gave back errors during the formatting process of the rewritable media.