6. CDR Tests
Plextor PX-S2410TU portable CD-RW drive - Page 6
CDR Tests
We tested the drive with latest version of Nero/CloneCD. Plextor PX-S2410TU supports the 24X (Z-CLV) maximum writing speed.
The drive starts writing at 10X till 4mins, shifts up to 12X at 6mins, accelerates to 16X at 20mins, shifts up again to 20X at 42mins and lastly reaches the 24X at 68mins. Due to the increased number of steps in order the drive to reach the 24X, the average writing speed is kept at 17X (17.04X).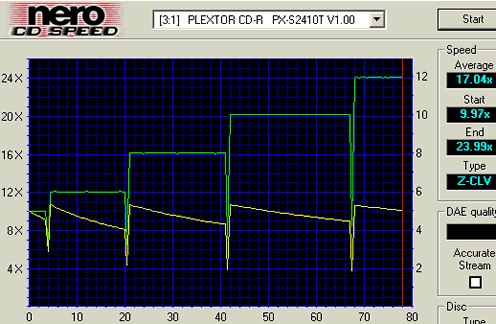 - Recording Tests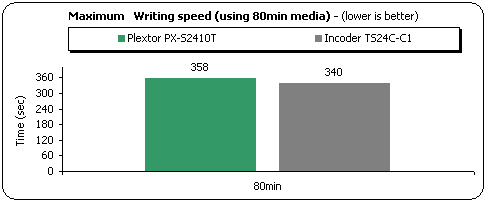 We burned 80 minutes of data. As you can see, the drive needed 358 seconds to finish the task, and the duration seems to be increased for a 24X recorder. The explanation for this is can be found in the CDSpeed graph above, where you can see the Z-CLV implementation of the drive. The following picture comes from Nero after a successful burning at 24X.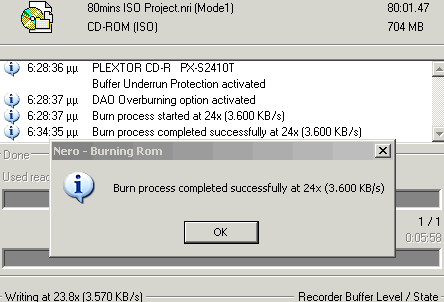 In the graph below you can see the best recording times we got for all the supporting writing speeds.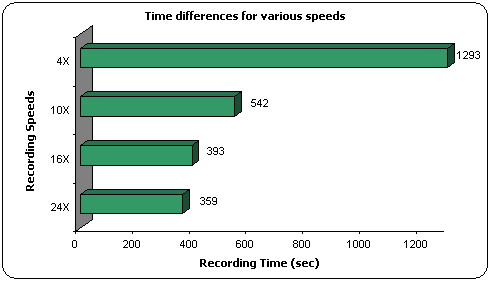 - Other features
| | |
| --- | --- |
| Overburning | Up to 98min |
| CD text reading/writing | Yes |
- CloneCD Writing Tests
The CloneCD software reports that the drive supports the DAO-RAW feature. In some cases the drive didn't worked properly with specific media.
For checking the drive's EFM correction status, we used 3 different game titles with different SafeDisc 2 versions with the latest software patches installed. We used the drive as reader/writer at maximum reading/recording speed. Two discs were burned for each game (Amplify Weak Sectors On/Off). The results are posted in the table below:
Game Title

Tested Drive

SD2 Build

Settings

CloneCD (Amplify Weak Sectors On

CloneCD (Amplify Weak Sectors Off

Max Payne v1.05

Creative 52XCD-ROM

v.2.50.020

OK

NO

TEAC 40XCD-ROM

BTC DV316DVD-ROM

Serious Sam - The Second Encounter v1.07

Creative 52XCD-ROM

v.2.60.052

NO

TEAC 40XCD-ROM

BTC DV316DVD-ROM

OK

NO

The Sims - Unleashed

Creative 52XCD-ROM

v2.80.010

NO

TEAC 40XCD-ROM

BTC DV316DVD-ROM
The drive seems to handle up to SafeDisc v.2.60 protected titles, with the "Amplify Weak Sectors" feature enabled.