5. DAE Tests
Plextor PX-S2410TU portable CD-RW drive - Page 5
DAE Tests
- DAE features
EAC v0.9 reports that the PX-S2410TU supports caching of data, "Accurate Stream" and retrieves "C2" error info.
- Pressed AudioCD results
In this test we examine the DAE speed of drive. The PX-S2410TU ripped the audio files at 8X average. The ripping speed is not very high but is almost the same we had measured for previous portable Plextor drives. The INcoder TS24C-C1 is faster by 2X.
- CDR AudioCD results
With CD-R media, the ripping for Plextor speed is again 8X, while the INcoder is a little slower than in the test with the pressed CD.
- EAC Secure Extract Ripping mode
EAC's secure extract ripping mode results, which ensures maximum produced WAV quality. Note that for each drive we used the build-in detection function:
Tested Drives

Average DAE Speed (X)

Pressed

CDR

Plextor PX-S2410T

2.8

2.8

INcoder TS24C-C1

9.6

9.7
- Advanced DAE Quality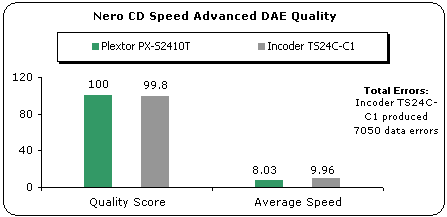 Plextor PX-S2410TU got a 100 score (best) in the Nero CD Speed Advanced DAE test. The average speed for the drive is 8.03X. The drive can also read data from SubChannel and CD Text. On the other hand, the INcoder produced 7050 data errors.
- Bad CDR Media results
We used CD DAE software to rip the whole disc (756539616 sectors) to the hard disk.
Average Speed (X)

Errors

Errors Of Total Disc (%)

Plextor PX-S2410T

Read error at 90% of ripping

INcoder TS24C-C1

Read error at 90% of ripping
The PX-S2410TU did not manage to finish the test and gave a read error in the last tracks of the disc.
- Ripping 90 and 99mins AudioCDs
| | |
| --- | --- |
| Tested drives | Ripping up to |
| Plextor PX-S2410T | Up to 99min |
| INcoder TS24C-C1 | Up to 88min |
- Reading/Ripping Protected AudioCDs
For the test procedure we used 2 protected AudioCDs, which we tested in both recognition and ripping (with EAC) processes:
* Pressed AudioCD with Sony Key2Audio (Celine Dion - New Day Has Come)
* Pressed AudioCD with Cactus Data Shield 200 (Natalie Imbruglia - White Lilies Island)
Key2Audio

CDS200

EAC

Plextor PX-S2410T

Cannot recognize disc contents

OK (detect TOC manually feature)

INcoder TS24C-C1

Recognize disc contents, but rips the first 5 tracks only

Recognizes disc contents but not all files have high quality
The drive cannot recognize the tracks of the Key2Audio protected title. With the Cactus Data Shield disc, it ripped the disc contents but the TOC had to be manually detected through the available feature of EAC software.