Pictures Of Dell's Upcoming Mobile Phones "Leak" Online
Tech site Engadget seems to access in a PowerPoint presentation with the details of a suite of Dell mobile devices due to be launched later this year. Possibly the most noteworthy of these devices is the 'Lightning' Windows Phone 7 device. According to the leaked docs, the new slider phone is powerd by a an 1GHz QSD8250 Snapdragon processor, it has a WVGA 4.1-inch OLED display, AT&T and T-Mobile 3G, five megapixel autofocus camera, 1GB of flash with 512MB RAM plus 8GB of storage on a MicroSD card, GPS, accelerometer, compass, FM radio, and full Flash support including video playback. in addition, the device is getting an upgrade to LTE in Q4 of 2011, according to the slides.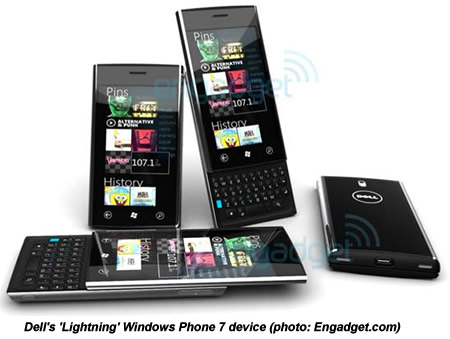 The documents also include information and pictures about the "Thunder", an Android 2.1 device with a 4.1-inch WVGA screen. Dell's document also claims this has Flash 10.1 along with a mention of an "integrated web video Hulu app." The phone will be sold in AT&T and world-friendly HSDPA versions around Q4 of this year.
Dell's "Smoke" is running Android Froyo atop a 2.8-inch QVGA display. It has a QWERTY keyboard and it is powered by a Qualcomm's next-gen MSM7230 processor at 800MHz, has a 5 megapixel autofocus cam, 14.4Mbps HSPA, microSD expansion to 32GB, WiFi, Bluetooth 2.1 + EDR, and dual-mic noise canceling technology.
Engadget also posted information about Dell tablet/slate devices including the 7" and 10" varieties called Streak. The seven-inch one will be based on Nvidia's Tegra 2 platform and will run Android 2.1 OS.
Dell's complete mobile leak" is available
here