3. Test Setup
In order to test the memory modules, we used two different laptops with different chipsets and operating systems:
- Asus A6JA (i945PM) - Windows XP SP2
- Asus A7s (i965PM) Windows VISTA 32bit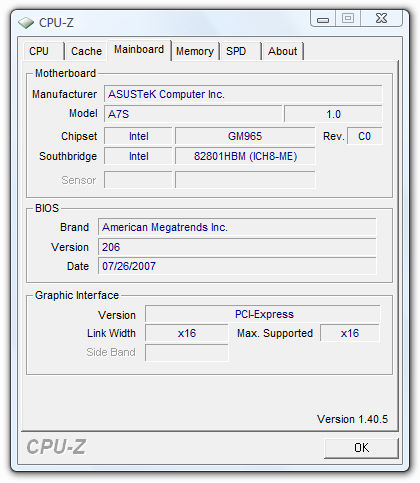 For benchmarking, we used:
Sisoft Sandra 2007 SP1
RightMark Memory Analyzer v3.70
ScienceMark 2.0 Memory Benchmark
Pov-Ray v3.70 Beta15
SuperPI XS Mod v1.50
Note that both memory modules didn't work at the manufacturer "claimed" speed of 400MHz. However, we cannot blame the memory manufacturers since both the Intel i945PM and Intel Santa Rosa 965GM don't support 800MHz memory modules. To be exact, Intel Santa Rosa supports 800MHz FSB but "only" at 667MHz memory speeds. In other words, both memory modules won't offer much performance improvement compared with "normal" DDR2-5300 memory modules. Perhaps the next generation of laptops will support 800MHz for memory so that performance can be improved significantly.
Another issue we encountered was the fact that the 2GB OCZ DDR2-800 module was only recognized as 1GB. After talking with OCZ, we believe that due to our modules being an early sample release, the sticker on our modules had been mis-configured, but this is not a major issue, the retail kits will be correctly labeled as 2GB :-)
We post only comparison results from the Asus A6JA. We benchmarked all modules under Windows VISTA but didn't see any major performance differences. In any case, the tested memory modules worked as follows:
| | | |
| --- | --- | --- |
| Ratings | Real Memory Speed | Timings |
| DDR2-533 | 267MHz | 4-4-4-12 |
| DDR2-667 | 333.50 MHz | 5-5-5-15 |
| DDR2-800 | 333.50 MHz | 5-5-5-15 |