2. OCZ DDR2-6400 SO-DIMM
The OCZ DDR2 SO-DIMMs are built to provide optimal levels of compatibility using the highest quality components available. Each module comes backed with industry leading technical support and the OCZ Lifetime Warranty, ensuring complete product satisfaction for unparalleled peace of mind.
- Main features
Module Size: 2GB
Part Number: OCZ2M8002G
Feature: DDR2-6400
DIMM Type: UNBUFFERED
Speed: DDR2-800
Voltage: 1.8V
Memory Timings: CL5-5-5-15 (CAS-TRCD-TRP-TRAS)
OCZ provided us with the retail package of their DDR2-6400 (OCZ2M8002G). Alternatively, users can find the same modules in 1GB, 2GB, 2x1GB and 2x2GB memory configurations. The retail price of the package is around US$142 as found at several online stores. The retail package is small with the memory module secured in a plastic shell.
The memory modules have a sticker with the OCZ logo, part number, and capacity and timing information: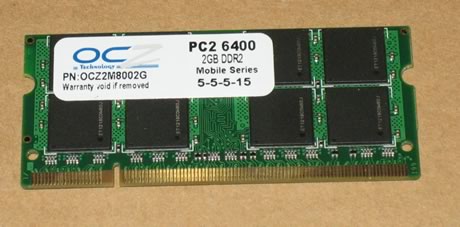 There's no information on the memory chipsets so it was not possible to identify the manufacturer:
Under Windows and using Everest Ultimate Edition 2007, we can see more information about the memory modules:
The SPD as reported by Everest Ultimate Edition sets the modules for 200, 266 and 400MHz with CL5: