1. Introduction, package
Patriot Extreme Performance (EP) Low Latency line is engineered to expand your gaming options. These DDR3 modules are designed to operate at 1800MHz at 8-8-8-20 timings and offer a capacity of 2GB in a dual channel kit of course.
The modules are equipped with Patriot ACC (Aluminum Copper Composite) technology, for maximum performance and stability under extreme overclocking conditions.
- Main features
Extreme Performance PC3-14400 (1800MHz)
Low Latency (8-8-8-20)
Equipped Patriot Viper Heat Shields with integrated ACC (Aluminum Copper Composite) technology
100% Tested and Verified
Lifetime Warranty
RoHS Compliant
EPP 2.0 Ready
Tested and compatible with Nvidia 790I chipsets
NVIDIA SLI-Ready Certified
- Retail package
Patriot Memory provided us the retail package of the 2GB kit (2x1GB) PC3-14400 memory with part number PVS32G1800LLKN.
The retail price is around ~$199 (-$20 rebate) as found at several online stores. The kit we received arrived in our lab in a common plastic box:
Both ram modules are covered with a pair of green 'Viper Fin' heatsinks. While there are very eye catching, they should do the work and keep the modules cool. The used material is copper and aluminum composite.
Flipping the memory modules the other way around, we see a small label that includes the modules' part number, memory timings and voltages.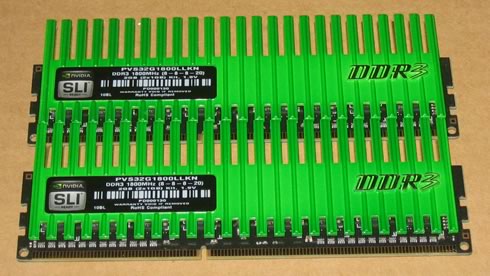 As you can see, there is also the Nvidia SLI logo present and of course the rating speeds of the DDR3-1800MHz. Partiot claims that these speeds will come with CL8 @ 1.90V. Well, we will have to test it ourselves in the following pages.
CPU-Z provides more information about the installed memory. The Patriot PC3-14400 supports Nvidia's EPP 2.0 profile, although it is not reported by CPU-Z:
However, Everest Ultimate Edition gives us more information