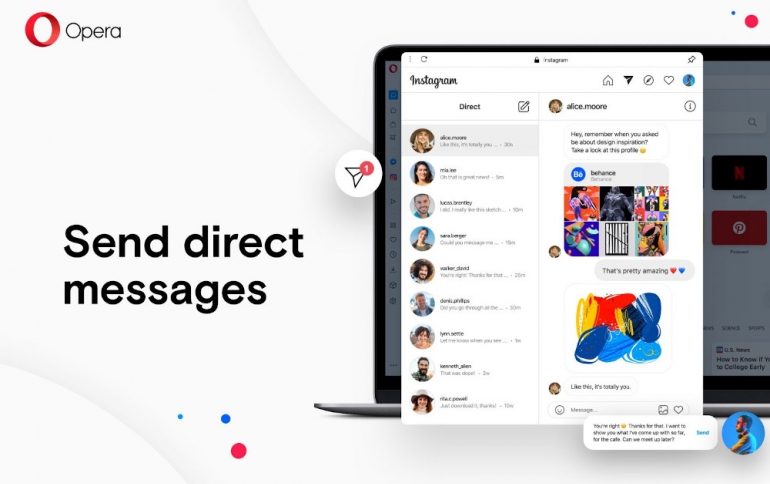 Opera Adds Built-in Instagram to Desktop Browser
Opera is adding a built-in Instagram feature to the newest version of its desktop browser, Opera 68.
The browser, available on Windows, Mac and Linux, already has several built-in messengers in the sidebar, including Facebook Messenger, WhatsApp and Telegram.
Recent weeks, with people staying at home and social distancing as much as possible, have seen them increasingly rely on social media to stay in touch with friends and loved ones. Opera says that the use of Opera's built-in WhatsApp has grown 58% in the US along with the use of Facebook Messenger 173% in the past two and a half months.
Opera users will also get access to the main Instagram feed. Along with Instastories, the explore function, and DMs, which have grown in popularity over recent years and even more so in recent weeks, this makes for a full Instagram on desktop experience.
Instagram has rolled out features in its web version, including the most recent access to instastories or DMs, which many who spend their days working on their laptops (or desktop computers) have been asking for. Opera is now integrating these new features into its browser to make them available across platforms.
Using messengers and Instagram in Opera has the added benefit of being a distraction-free way to use the web: people decide when to access their messengers and aren't bothered by constant notifications unless they enable them.
To enable Instagram in Opera, one has to click the Instagram icon in the sidebar on the left and log into an Instagram account. Once that is done, users are all set: they can use the social network in their favorite way.
Opera also includes the Workspaces feature, which allows you to manage different projects, whether they are work-related or personal, from the same browser window. Using the sidebar on the left, you can group tabs in up to five separate workspaces. The browser also lets you customize their icons and names.