OCZ Introduces New Saber 1000 Series SATA SSDs For Enterprises
Toshiba's OCZ Storage Solutions today announced its new enterprise-class Saber 1000 SSD Series designed for read-intensive applications targeting high-volume deployment hyperscale, web-hosting and distributed computing environments. The SATA-based Saber 1000 Series is based on the latest A19nm NAND flash from Toshiba and is available in 240GB, 480GB and 960GB capacities. It utilizes OCZ?s internally developed Barefoot 3 controller and firmware.
In a steady state condition by which the Saber 1000 Series 960GB drive is writing, erasing and re-writing data repeatedly over its full capacity, performance figures for both large block sequential operations, as well as small block random operations include:
550 MB/s for sequential reads (128KB blocks)
470 MB/s for sequential writes (128KB blocks)
98,000 IOPS for random reads (4KB blocks)
20,000 IOPS for random writes (4KB blocks)

The SSDs consume just 3.7 watts of power in an active state. n the event of a sudden power loss, the Saber 1000 Series uses a technique referred to as Power Failure Management Plus (PFM+) which holds up the SSD circuitry long enough to ensure the integrity of the device so that it can be fully operational again once power is restored. To achieve this, each Saber 1000 SSD uses an internal 16 Byte PFM+ log that describes a single action performed on the NAND and this log contains only the essential data needed to rescue the SSD from metadata corruption.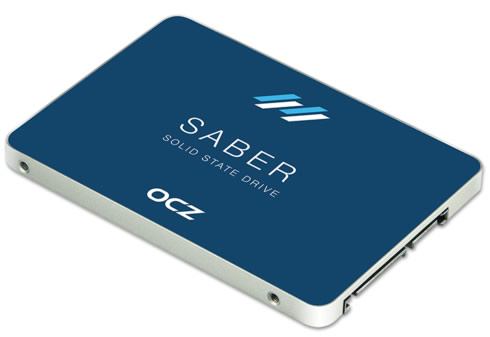 Monitoring and management offered through OCZ?s StoragePeak 1000 SSD Management System that enables IT managers to centrally monitor and administer connected Saber 1000 SSDs and other OCZ enterprise class solution resources from a web-based management interface. This network-accessible management system connects to multiple hosts (running Linux or Windows operating systems) providing a cross-platform view of the OCZ SSDs connected to servers, storage arrays or appliances, and includes a user configurable alerting systems that enables IT corrective actions to be initiated at an early stage.

Specifications
PHYSICAL
Usable Capacities (IDEMA)
240GB / 480GB / 960GB
NAND Components
A19nm Multi-Level Cell (MLC)
NAND Controller
OCZ Barefoot 3 M00
Interface
Serial ATA (SATA) 3.0 6Gb/s
Form Factor
2.5 inch
Dimensions (L x W x H)
99.70 x 69.75 x 7.00 mm
Weight
115g (weight varies by capacity)
SUSTAINED PERFORMANCE
240GB
480GB
960GB
Sequential Read
(128KB QD32)
550 MB/s
550 MB/s
550 MB/s
Sequential Write
(128KB QD32)
515 MB/s
500 MB/s
470 MB/s
Random Read (4KB QD32)
86,000 IOPS
95,000 IOPS
98,000 IOPS
Random Write (4KB QD32)
20,000 IOPS
23,000 IOPS
20,000 IOPS
Random Mixed R65%/W35% (4KB QD32)
31,000 IOPS
33,000 IOPS
30,000 IOPS
Random Read Latency
(4KB QD1)
121 μs
92 μs
59 μs
Random Write Latency
(4KB QD1)
52 μs
27 μs
28 μs
Drive Writes Per Day (DWPD)
0.5
0.5
0.5
 
ENVIRONMENTAL
Power Consumption
Idle: 1.0W (Typical) / Active: 3.7W (Typical)
Operating Temperature
0°C ~ 70°C
Storage Temperature
-45°C ~ 85°C
Shock
(Operating / Non-operating)
1000G/0.5ms / 1000G/0.5ms
Vibration
(Operating / Non-operating)
2.17 Grms (5-800 Hz) / 3.13 Grms (5-800 Hz)
Altitude
(Operating / Non-operating)
-1,500 ft. to 15,000 ft. / -1,000 ft. to 40,000 ft.
Certifications and Declarations
CE, FCC, KCC, C-Tick, BSMI, VCCI, UL, WEEE
Product Ecological Compliance
RoHS
 
RELIABILITY/SECURITY
MTBF
2 million hours
Bit Error Rate (BER)
1 sector per 1015 bits read
Power Loss Management
Power Failure Management Plus (PFM+) prevents ?brick drive? syndrome so the SSD remains operational post outage
Data Encryption
AES-256-bit encryption with automatic hardware encryption to provide protection of all metadata and user?s data at all times
Product Health Monitoring
Includes OCZ?s StoragePeak 1000 SSD Management System and Self-Monitoring, Analysis, and Reporting Technology (SMART) support with enterprise attributes
COMPATIBILITY
Serial ATA (SATA)
Serial ATA Revision 3.0, compatible with SATA 1.5 Gb/s, 3 Gb/s and 6 Gb/s. Compliant with ATA/ATAPI-8, SMART ATA feature set, and Native Command Queuing (NCQ) command set.
Operating System
Windows 7 / Windows 8 / Server 2008/2012 / Server 2008 R2 / Oracle Enterprise(6.4) / RedHat Enterprise(6.4) / CentOS 6.4 / Open SUSE Linux Enterprise Server 12.3 / Ubuntu Server 12.4.4 LTS / MINT 15 3.8 / SLES ll SP2 3.0.13
Power Management
Supports ATA Power Management Specification
ADDITIONAL FEATURES
Device Activity Signal (DAS) Indication
Set automatically to the default state during manufacturing, the polarity can be inverted in the field using Clout.
Thermal Sensor
Temperature monitoring to maintain the NAND flash within operating temperature specifications
Services & Support
5 year warranty; Dedicated FAE support