NHK Showcases Thin 88-inch 8K OLED Screen, Bendable OLED
The NHK Science and Technical Research Laboratories will hold the Open House 2018 exhibition on May 24 in Japan and among the interesting products there will an 8K / 240Hz, 88-inch sheet-type 8K OLED, along with a bendable iOLED.
NHK is researching a thin, lightweight large-screen sheet-type display using organic light emitting diodes (OLEDs). The self-emissive display devices are designed to allow people enjoy 8K Super Hi-Vision's images at their homes.
NHK will be showcasing a 88-inch 8K display based-on thin glass substrates. 8K images are displayed using just a single glass panel, whereas four 4K panels were previously required.  The 1mm panel has been manufactured by LG Display, and ASTRODESIGN, Inc. The display supports 120Hz.
In addition to the typical features of OLED displays such as high contrast and wide viewing angles, high-quality images are achieved by adding NHK's own signal processing techniques for 8K images with high luminance and wide color gamut.
NHK, in collaboration with Nippon Shokubai Co., Ltd., is also researching thin, light, and flexible displays based on organic light-emitting diode (OLED) to encourage the dissemination of 8K Super Hi-Vision displays in the home.
Conventional OLEDs are vulnerable to oxygen and moisture, so when the display is manufactured using conventional OLEDs on a plastic substrate where oxygen and moisture can easily penetrate, the number of defective pixels gradually increases. NHK expects that inverted OLEDs to have longer lifetime since they use materials that are resistant to oxygen and moisture penetration.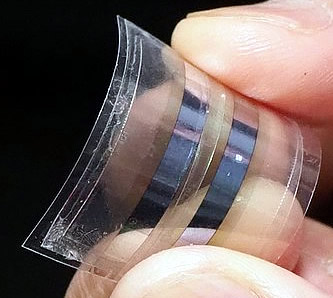 Other interesting news from the event include an 8K 4x-Speed Slow-Motion System and a 8K/120 Hz Video Codec for compression and transmission of 8K videos in real time.
NHK is showcasing technologies of 8K video shooting and recording at 4x speed (at frame frequency of 240 Hz) and simultaneous slow-motion instant playback at 60 Hz.
To achieve 8K image shooting at 240 Hz, NHK developed a 1.25-inch 33 megapixel CMOS image sensor with high-speed analog-to-digital converters along with high-speed cameras capable of 8K video shooting at 240 Hz.
Signals between the camera head and camera control unit (CCU) can be connected by a single camera cable. The CCU outputs 8K/240 Hz video using two U-SDI cables.
NHK developed a high-speed slow-motion replay server that can record an 8K/240 Hz video in real time and make instant slow-motion replay at 60 Hz simultaneously using video compression and solid-state drives (SSDs) parallelization techniques. This makes it possible to carry out slow-motion playback at variable speeds while shooting long programs such as sports events.
NHK is also working with FUJITSU LABORATORIES LTD. on coding technologies that compress and decompress 8K videos with a frame frequency of 120 Hz. The companies have developed the world's first 8K/120 Hz real-time video encoder and decoder that comply with the standards for 8K broadcasting.
The hardware encoder compresses 8K/120 Hz videos in real time. The encoding method is MPEG-H HEVC/H.265 Main 10 profile, and the output bitstreams comply with ARIB Standard STD-B32 Version 3.9.
The 8K/120 Hz decoder implemented by software is capable of decoding 8K/120 Hz bitstreams complying with the ARIB Standard in real time.