4. Results
We are ready to begin our tests. Firstly, we keep the Intel Core i7-920 processor running at stock speed. The Nexus VCT-9000 lowered the CPU temperature to just 53 degrees Celsius. The performance is lower than we expected and as you can see in the graph below, the cooler's ranking is not very high compared to other products: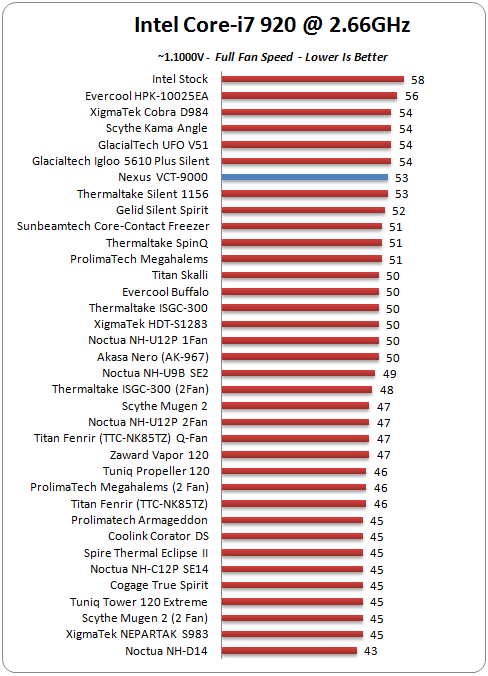 Pushing the Intel Core-i7 920 to work at 3.60GHz makes things even harder for Nexus VCT-9000 cooler. What we got was 81 degrees C, which is just 9 degrees C less than what you would get from Intel' stock cooling solution. It is obvious that the VCT-9000 is not the best solution under overclocking conditions: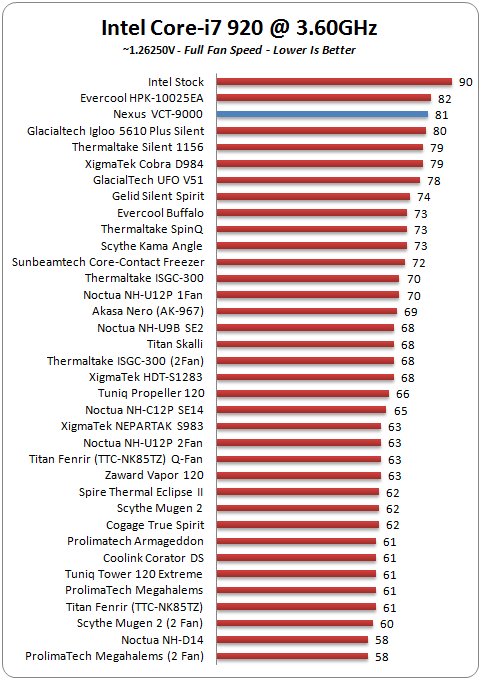 Nexus claims that the VCT-9000 is ultra-quiet and efficient. Although we cannot agree with the latter, the VCT-9000 is really very quiet. Actually it is the quietest CPU cooler we have tested here. We measured just 38dB of noise (30cm distance), which is almost as low as what we measured for the cooler Intel packs their processor with:
As we previously mentioned, the Nexus VCT-9000 retails for about $50, which is an average price for a cooler. Of course, after having testing the device, we think that a better price would give the product a better value/money ratio.