Next Generation Thunderbolt To Offer 20 Gbps Throughput
Intel today introduced the next generation of its Thunderbolt interface, which promises a data rate of 20 Gbps in both directions as opposed to 10 Gbps for the previous version. Intel introduced the Intel DSL4510/4410 Thunderbolt controllers (codename Redwood Ridge). These two are replacements for Intel's current DSL3510 and DSL3310, with 4/2 and 2/1 (channels/ports) respectively. The new controllers add DisplayPort 1.2 capability when connecting to native DP displays, improve power management, and reduce platform BOM cost. The new controllers are targeted for upcoming systems with 4th generation Intel Core processor.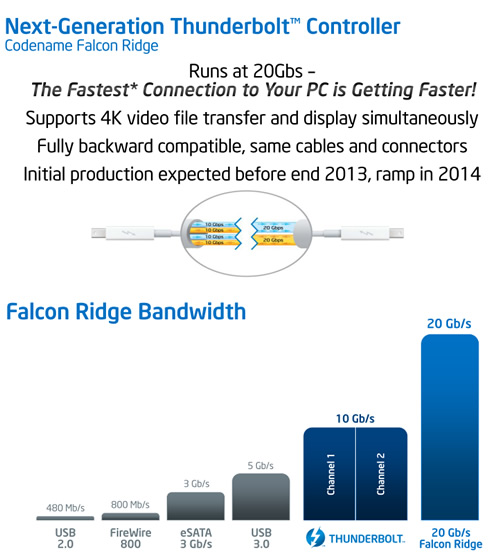 Intel also previewed early prototype silicon of its next-generation Thunderbolt controller codenamed Falcon Ridge, which runs at 20Gbs, enabling 4K video file transfer and display simultaneously. Fully backward compatible, it uses the same cables and connectors as previous generation controllers. Initial production is expected before the end of this year, with ramp in 2014.