New Surface Pro Is Starting at $799, Windows 10 China Government Edition Anounced
Today in Shanghai, China Microsoft announced Windows 10 China Government Edition for China government customers; introduced the new Surface Pro - with up to 13.5 hours of battery life; revealed the new Surface Pen; celebrated the launch of Microsoft HoloLens in China; and shared that Project Scorpio will launch in China later this year.
Windows 10 China Government Edition was developed with the support of CETC and has been designed for Microsoft's China government customers, essentially meaning it does not share any user data with Mirosoft. Microsoft says that the Chinese government has "the highest standards for security."
Three Chinese government executives are the first to pilot Windows 10 China Government Edition - at the national level with China Customs, at the regional level with the City of Shanghai (EITC), and the state-owned enterprise with Westone Information Technology.
The Windows 10 China Government Edition is based on Windows 10 Enterprise Edition, which already includes many of the security, identity, deployment, and manageability features governments and enterprises need. The China Government Edition will use these manageability features to remove features that are not needed by Chinese government employees like OneDrive, to manage all telemetry and updates, and to enable the government to use its own encryption algorithms within its computer systems.
Lenovo will be one of the first companies to preinstall Windows 10 China Government Edition.
Microsoft also unveiled the next generation of the Surface Pro line. The new Surface Pro is a mobile creative studio with a 12.3" PixelSense touch display that supports the Surface Dial and the new Surface Pen, which is said to be twice as accurate as the previous version. It delivers up to 13.5 hours of battery life - 50% more battery life than the Surface Pro 4 and 35% more than an iPad Pro. It's also more than 2.5 times faster than Surface Pro 3, according to Microsoft.
An improved Surface Pro hinge has a full 165-degree range of motion. It is Microsoft's lightest Surface Pro ever, starting at just 1.7lbs and 8.5mm thin.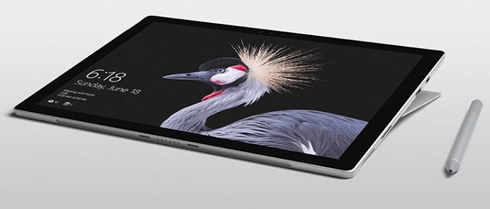 The device is powered by 7th generation Intel Core processors and it's the quietest Surface yet, with no fan on the Core m3 and the i5 devices. In fact, this is the first i5 ever with fan-less architecture. And at 18dB, even the core i7 can't be heard.
Surface Pro's high-resolution 12.3" PixelSense Display with 267ppi and 3:2 aspect ratio went further this time. Surface Pro's PixelSense Display has an 50% more pixels than a 12" Apple MacBook. Microsoft developed custom silicon, the PixelSense Accelerator, to enhance color.
Microsoft also added LTE Advanced, available in units shipping later this year.
The Surface Pro keyboard is delivering a high-quality scissor mechanism to provide you a consistent typing experience, with 1.3 mm of key travel for faster and more accurate typing. Typing on the new Signature Pro Type Covers is easier, more, comfortable, more accurate, better sounding, and easier to do.
The new Signature Type Cover is available in three colors: Platinum, Burgundy, Cobalt Blue. Finally, using Surface Dock, you can turn Surface Pro into a full desktop workstation with up to two 4K monitors and four additional USB ports.
Microsoft showed off new inking features in Microsoft Word, Excel, and PowerPoint that include a customizable gallery of your favorite pens, pencils, and highlighters that roams with you as a personalized setting across Office apps and devices, along with support for tilt and shading with the new Surface Pen.
These capabilities will begin to release to Office 365 subscribers in June, including the more than 100 million monthly active commercial users and 26 million consumer subscribers. Additional inking experiences will continue to roll out in the future, including the new Microsoft Whiteboard app, which offers a limitless canvas for creativity and collaboration with simultaneous inking between multiple people across the world. With Microsoft Whiteboard, people will be able to collaborate on ideas and projects across an expanded set of ink-enabled Windows 10 devices later this year, with exclusive capabilities for Office 365 subscribers.
Starting at $799 USD, the new Surface Pro is available in an array of color-on-color options for the new Surface Pro Signature Type Cover, the new Surface Pen, and the Microsoft Surface Arc Mouse. It will launch on June 15, 2017, in 25 markets. Pre-orders for the new Surface Pro and Surface Pro Signature Type Cover begins later today in select markets at Microsoft Store, Microsoft.com, BestBuy.com, and JD.com where available. The new Surface Pen will be available in the coming weeks.
Besic configurations for the new Surface Pro
Intel Core m3
128GB SSD
4GB RAM
Intel HD Graphics 615
Intel Core i5
128GB SSD
4GB RAM
Intel HD Graphics 620
256GB SSD
8GB RAM
Intel HD Graphics 620
Intel Core i7
256GB SSD
8GB RAM
Intel Iris Plus Graphics 640
512GB SSD
16GB RAM
Intel Iris Plus Graphics 640
1TB SSD
16GB RAM
Intel Iris Plus Graphics 640
Surface Studio is coming to 12 new markets. Preorders for Surface Studio and Surface Laptop begin today in China and start shipping on June 15. To celebrate the launch of Surface in China, JD.com will run a Microsoft Super Surface Day on their website and mobile app on May 24 in China. JD.com and Microsoft Surface will also be featured in New York's iconic Times Square.
For those not familiar, Surface Studio turns your desk into a creative studio and features an adjustable 28-inch PixelSense Display that is just 12.5 mm thin. 13.5 million pixels with pen and dial and all these new modes of interaction.
In December at WinHec in Shenzen, China Microsoft announced that HoloLens. Today, Microsoft announced that HoloLens is shipping to developers in China.
In addition, Microsoft announced that Project Scorpio, the company's powerful console, will be available this year for Xbox fans in China. Project Scorpio has 40 percent more power than any other console and True 4K gaming.
Microsoft is also bringing the next season of the Forza Racing Championship, the most inclusive racing competition in gaming, to ChinaJoy in Shanghai this summer.
Finally, NetEase, Microsoft's partner bringing Minecraft to China, will offer two more betas in July on the way to a beautiful Windows 10 and Xbox One experience.