New Pebble Time Smartwatch Gets A New Kickstarter
Pebble's first color smartwatch is taking a page from Google Now, with a "Timeline" view that tells users what's coming up next. As before, Pebble connects to iOS and Android phones over Bluetooth, relying on the phone for all Internet and cellular functions.
Pebble Time features a new color e-paper display and microphone for responding to notifications. It offers up to 7 days of battery life, water resistance and customizability. The wearable device is fully compatible with all 6,500+ existing Pebble apps and watchfaces.
Pebble Time's new microphone lets you send voice replies to incoming notifications or take short voice notes. Pebble Time is 20% thinner than the original Pebble at just 9.5mm.
The lens is crafted from scratch-resistant Gorilla Glass with a bezel made of stainless steel.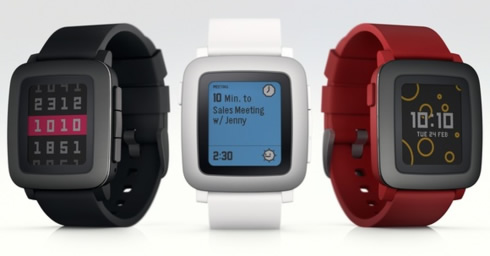 A big change is happening on the software level. While Pebble's 6,500 apps and watch faces aren't going away, the new software focuses on providing relevant, at-a-glance information such as the weather, news, travel updates, and reminders. Pebble Time will present these updates when it thinks they'll be useful, and will allow users to take quick action on them.
Timeline should work like Google Now, which automatically provides timely information on phones and Android Wear smartwatches. But while Google Now naturally offers up Google's own services, such as Search and Gmail, Pebble is turning to third parties like The Weather Channel, ESPN, Jawbone, Evernote, and Pandora.
Shipments of Pebble Time will start in May, available in three colors exclusively on Kickstarter. It will go on sale for $199, but for now, fans can order it for $159.