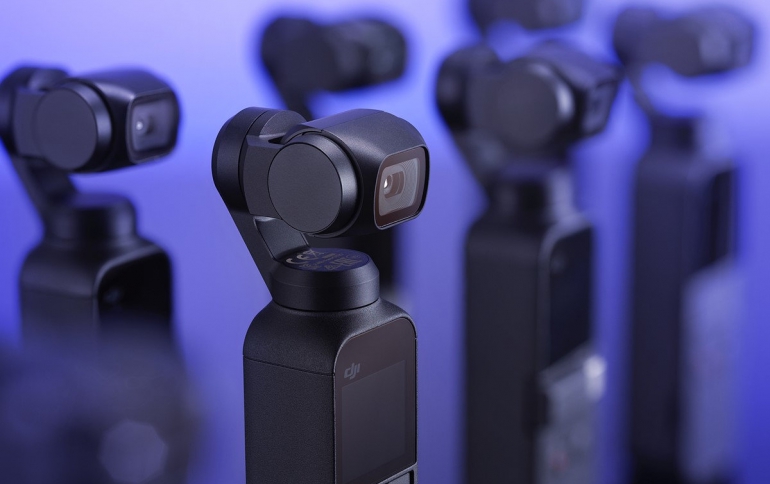 New DJI Osmo Pocket Camera Shoots 4K60p
Drone giant DJI unveiled today the newest member of its Osmo family: the Osmo Pocket.
As the name suggests, the Osmo Pocket is so compact it literally fits inside your pocket (or purse, or pack). At 4.8" tall and weighing 0.25 lb, the Pocket is the smallest 3-axis stabilized handheld camera DJI has ever designed, and quite possibly the smallest mechanical gimbal available on the market.
The Pocket's setup includes a 1/2.3-inch sensor, 80-degree FOV, and f/2.0 aperture. It can shoot stabilized 4K video at up to 60 fps and will capture 12MP stills. Other specs include 100 Mb/s transfer speeds and HDR photo mode.
Design perks include a touchscreen, single-handed design, universal connection port for your smartphone, and a passive cooling system.
Users familiar with DJI drones will recognize both ActiveTrack and Motionlapse modes. ActiveTrack allows you to select a target for the Osmo Pocket to track and record; while Motionlapse is DJI's take on time lapse video, allowing you to condense an entire day into a single, stabilized shot. The Pocket also includes additional photo-friendly functions, such as Panorama, FPV, and NightShot. These features can be accessed using the new DJI Mimo app.
On top of its native capabilities, the Osmo Pocket supports a suite of accessories, including a combination charge-and-store case, a wireless module for Bluetooth and Wi-Fi connectivity, tripod mount, ND filter kit, and more.
The DJI Osmo Pocket is now available for pre-order for $349.
Product Highlights
Gimbal Camera with 1/2.3" CMOS Sensor
Compact 4.1 oz, 4.8" High Design
Up to 4K Video at 60 fps, up to100 Mb/s
12MP JPEG or DNG RAW Still Photos
Handle with Retractable Extension
Wi-Fi & Bluetooth Monitoring & Control
POV, ActiveTrack & FaceTrack Modes
Standard Time-Lapse & Motionlapse
NightShot & 3 x 3 Panorama Modes