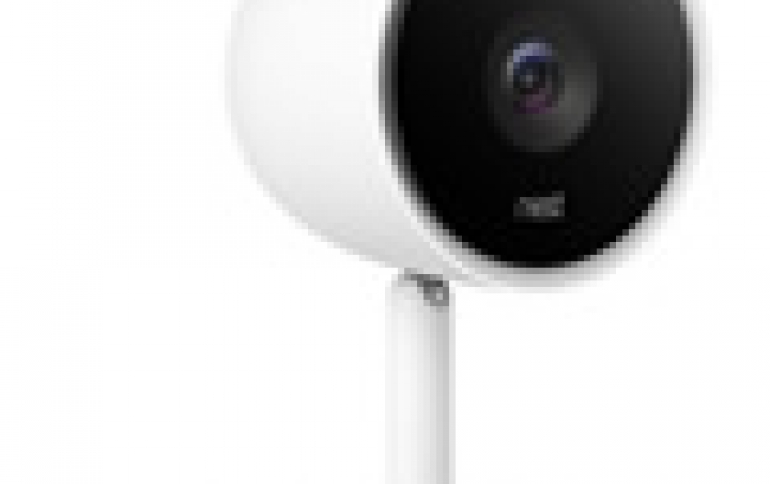 Nest IQ Camera Identifies Family Members
Nest's newest security camera will take facial recognition to another level, with better sensors and software smart enough to detect the difference between family members, pets and potential intruders in the home.
The new $299 Nest Cam IQ is using AI algorithms that recognize familiar faces. The camera has an 8-megapixel image sensor and 12x digital zoom. That allows users, with a companion app, to zoom in on faces. With a $10-a-month Nest Aware subscription, they can enter their names, and the next time a person appears on camera, a smartphone alert will identify them.
The new hardware is an improvement from the camera's predecessor, Nest Cam Indoor, which has a 3-megapixel sensor and 8x digital zoom.
The camera will only identify people you select through Nest's app for iPhones and Android devices. For instance, you could program the device to recognize a child, friend or neighbor, after which it will send you a notifications about that person being in the home. It won't try to recognize anyone that an owner hasn't tagged.
Google purchased Nest for $3.2 billion in 2014, but in 2015, Google's founders renamed the parent company Alphabet and set up Google and Nest as separate divisions.
Nest said users can place orders for the Nest Cam IQ starting Wednesday. The cameras will ship a month from now and be sold in 11 countries, including the U.S.
Nest IQ specifications
Size and Weight
Mass 12.6 oz (357 g)
Total cable length: 10 ft (3 m)
Camera
1/2.5-inch, 8-megapixel (4K) color sensor with 12x digital zoom and enhance
Close-up tracking view
Video: Up to 1080p (1920 x 1080) at 30 frames/sec, H.264 encoding, HDR
Field of view: 130° diagonal
Night Vision: High-power infrared LEDs (940 nm) with IR cut filter
Audio and lights
High-quality speaker, 3-microphone array, LED light ring, LED status light
Operating temperature: 32 to 104°F (0 to 40°C)
Weather resistance: Indoor use only
Power
AC adapter input: 100-240V AC, 50/60Hz, 0.65A
AC adapter output: 15V DC, 1.87A
Camera input: 15V DC, 1.0A
Security: 128-bit AES with TLS/SSL
Wireless
Wi-Fi 802.11a/b/g/n/ac, 2.4GHz or 5GHz (WEP, WPA, WPA2 encryption supported)
Bluetooth Low Energy (BLE)
802.15.4 at 2.4GHz
Connectivity requirements
Wi-Fi connection.
Working broadband internet connection with at least 2 Mbps upload speed (DSL may not qualify).
Requires a compatible phone or tablet with the free Nest app and Bluetooth 4.0. Some phones, tablet and networks do not support 1080p.
Bandwidth requirements
At 1080p, Nest Cam requires 800 to 2000 Kbps of upload bandwidth while streaming video.
Cameras will use more bandwidth to stream video when there is more motion in the scene.
If you subscribe to Nest Aware, your camera streams all video to the cloud for secure offsite storage. At 1080p, each camera could use 150GB to 300GB of upload bandwidth per month depending on the video quality setting.
Languages: English, French, Spanish (Latin America), Dutch, German, Italian, Spanish (Spain)
Warranty: 2-year limited warranty.