NEC Introduces Tele Scouter, A Wearable Computer
NEC has just relesed Tele Scouter, a wearable computer with a head-mounted transmissive LCD display designed for workers in outdoor environments such as contruction workers.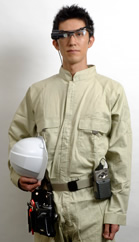 Available from December in Japan for 400,000 JPY ($5,200 - basic configuration), the device features a small (90 x 140 x 55mm, W X D X H) and lightweight (360g) PC unit as well as a set of special glasses, which is equipped with a semi-transmissive LCD (800 x 600 pixels) to allow the user read information while working.
The PC unit is powered by an ARM 500MHz processor, it has 256MB of memory, 2GB of RAM for booting and runs on Windows Embedded CE 6.0 R3 Professional OS. Other features include microSD card slot, LAN-enabled wireless IEEE 802.11a/b/g, Bluetooth 2.0 + EDR and a camera input. The camera can be mounted on the glasses and transmit picture to a external station from which, operators may interact with the user.
NEc says that the device can be used in a working environment in order to avoid accidents during work or provide instructions to a worker.