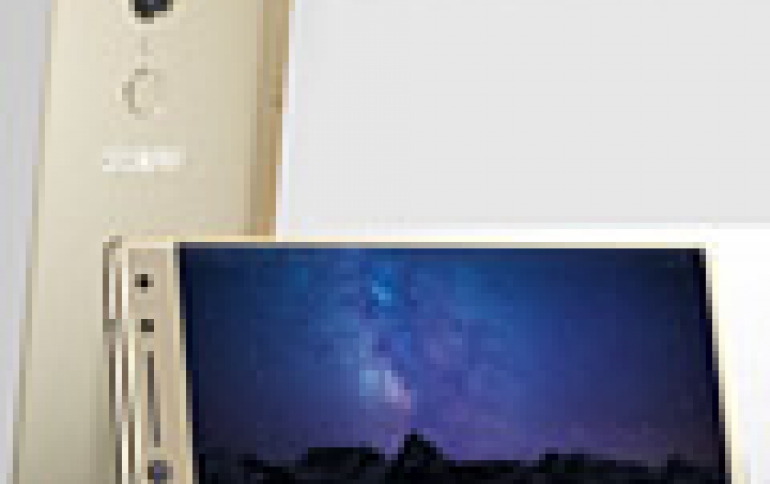 MWC: TCL Introduces Alcatel 5, 3 and 1 Smartphone Series, Android Oreo Smartphone and Tablets
TCL Communication formally introduced in a press conference at the Mobile World Congress 2018 its new 18:9 Smartphone Portfolio with the Alcatel 5, 3 and 1 Series, the company's first device powered by Android Oreo (Go edition) and two Alcatel Tablets with running Oreo at Mobile World Congress 2018.
Alcatel 5, 3 and 1 Series
Alcatel delivers a 18:9 display experience across each series in its smartphone portfolio, using custom-built displays built by its parent company TCL.
The portfolio also features new Alcatel experiences such as Face Key, a facial recognition technology, and enhanced camera options. Additionally, TCL Communication said ot would be offering regular Android security updates, on a minimum quarterly basis, on its most popular smartphones, including its all-new 2018 devices.

Geared towards everyday lifestyle, the Alcatel 5 sports a bezel-less 5.7-inch Alcatel FullView 18:9 display, brushed metallic unibody design, octa-core processor and fast charging, which cuts smartphone battery charging time by half. It also includes dual front camera with 120-degree super wide-angle with LED flash. The intelligent camera switches from portrait mode to super wide-angle mode when it detects more than 2 faces in the shot.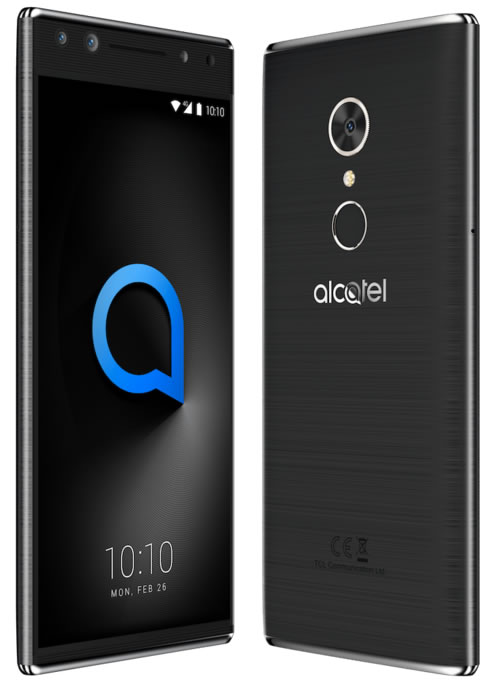 The Alcatel 5 comes with a suite of photo editing tools called Social Mode. With Social Square, you can review recently captured photos in one half of the screen, while the camera viewfinder remains active in the other half. This enables users to review pictures as quickly as they take them, while making it possible to take new pictures at the same time. Instant collage lets you mash up your best shots into pre-set arrangements. Each section of the collage is taken one-by-one using the camera viewfinder and shifts to the next shape as you progress through the collage. Photo booth brings back those nostalgic photo moments from the fair or friends' parties by taking four pictures in a row, one shot per second.
The Alcatel 5 also features the Face Key facial recognition security. The feature allows you to easily unlock your device by simply glancing at the screen. In a process that takes less than half a second, Face Key breaks down each facial scan into over a hundred data points to ensure a more reliable match.
The fingerprint sensor is located on the back, and will include functionality beyond unlocking your phone, such as doubling as a shutter key when taking selfies and keeping sensitive information locked away in privacy mode; additionally, the sensor is programmable allowing each individual finger to launch a different app or service, so you can go straight to your commonly used apps.
The Alcatel 5 is now available in select markets in Metallic Black and Metallic Gold for 229,99 Euros.
The Alcatel 3 series featurs Alcatel FullView 18:9 displays, SmartCam, Face Key and fingerprint sensors below 200 Euros. The 3- series is designed with curved lines, 2.5D contoured edge glass, and curved backs.
The Alcatel 3 features a 5.5-inch IPS HD+ display in ultra-compact form factor and spectrum glossy finishing at 149,99 Euros. It will be available from March onwards in three colors: Spectrum Black, Blue and Gold.
The Alcatel 3X offers a larger 5.7-inch IPS HD+ display, more memory and a super wide angle dual rear camera at 179,99 Euros. This one will be available from April onwards in three colors: Metallic Black, Blue and Gold.
The Alcatel 3V packs a 6-inch 2K (2160x1080) display combined with a real time bokeh dual real camera at 189,99 Euros. It is available now in three colors: Spectrum Black, Blue and Gold.
The 1-series of smartphone products is Alcatel's most affordable lineup. This series will include the Alcatel 1X, the first sub 100 Euro device from a major global brand to come with an 18:9 screen. It comes with a soft touch finishing, 5.3-inch 18:9 display (960 x 480), rear camera up to 16 MP, a quad-core MediaTek processor, 1GB of RAM, and 16GB of storage. The Alcatel 1X will be one of the first smartphones powered by the latest Android Oreo (Go edition).
The Alcatel 1X will feature a new suite of pre-installed Google apps. This includes the new Google Go, Files Go, Google Maps Go, YouTube Go and Gmail Go, as well as performance optimizations to Chrome, Google Play and Gboard. It will also feature the Google Assistant for Android (Go edition).
With Android Oreo (Go edition), these applications and features have been optimized to be smaller in size meaning less storage requirements and offering Alcatel 1X owners more storage space out of the box.
Starting from 99,99 Euros, the Alcatel 1X will be available from April onwards in three colors: Black, Blue and Gold in a satiny finish.
The Alcatel 1C (3G variant) featuring a metal body will be launched from 89,99 Euros. It will be available from April onwards in three colors: Metal Black, Blue and Gold.
Alcatel Tablets with Android 8.1 Oreo
TCL also today introduced the new Alcatel 1T tablet series. With two new compact and portable tablets - the Alcatel 1T 10 and Alcatel 1T 7 - this new series is aimed at being affordably priced while offering simple designs and the latest Android 8.1 Oreo operating system.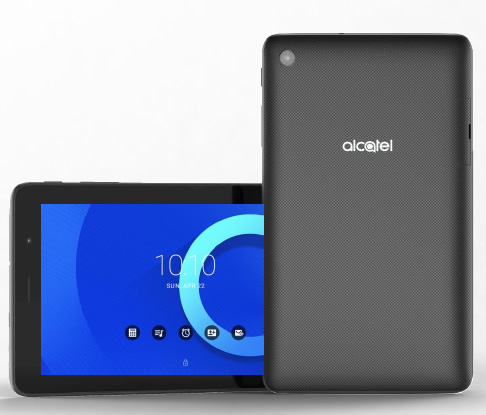 Both tablets feature Kids Mode, a dedicated mode that comes with pre-loaded applications and content, such as games, kid's camera, and drawing app. This mode also comes with a built-in parental control interface that gives parents the ability to set usage limits. Also included in the 1T tablet series is Eye Care mode, which is designed to reduce blue light in order to relieve visual fatigue.
Featuring a 10.1-inch IPS display, the Alcatel 1T 10 tablet offers Wi-Fi connectivity. Its weigh is just 415g, and comes with a 4000mAh battery that will power the device for 8 hours on one charge. it also packs 16GB of internal storage and microSD expanded storage up to 128GB. An optional dedicated Bluetooth keyboard and textured cover will be available to make typing quicker while providing protection against scratches, drops and dust.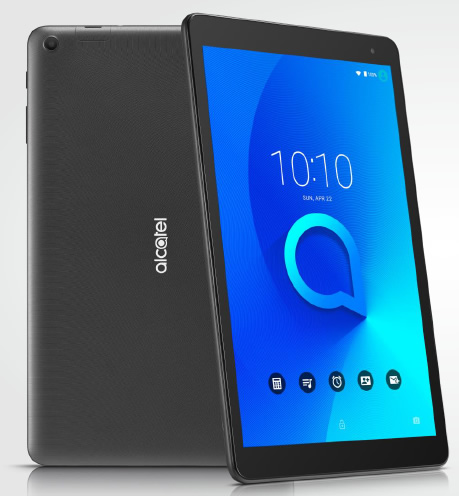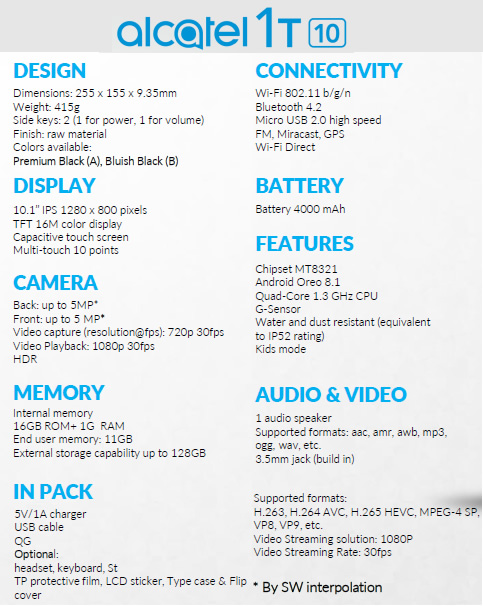 The Alcatel 1T 7 Wi-Fi tablet also comes with a pocketable form factor and lightweight body, weighing in at 245g and measuring 9.15mm thin. The 2580mAh battery provides up to 430 hours of standby time and 7 hours of usage.
The Alcatel 1T 10 and Alcatel 1T 7 tablets will be available later in Q2 across Europe, Latin America and Asia, starting at 99,99 Euros (RRP) and 69,99 Euros (RRP) respectively. Both tablets will come in Premium Black and Bluish Black color options.